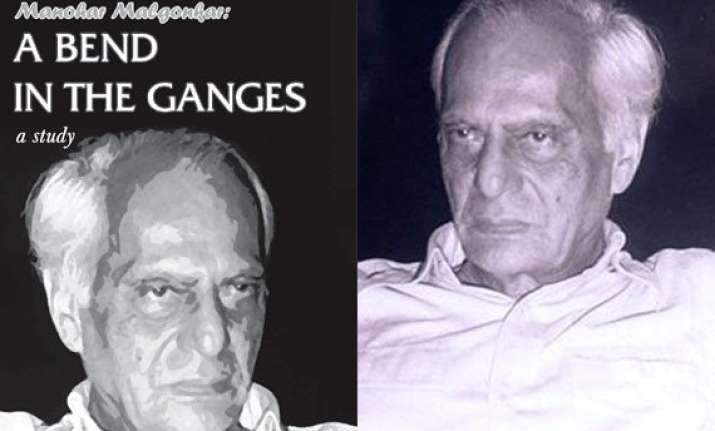 "The old order changeth, yielding place to new..." wrote Tennyson, and he may have been talking about the world of books. Reading habits change and popular authors get relegated to the back shelves and slowly disappear from view as no new editions are forthcoming.
But there are some more unlucky - the ones who make as significant a contribution as their contemporaries but never get equal acclaim.
Such as this prolific writer who offers an invaluable, engrossing look into India's transition from an imperial colony to an independent nation and its effect on the princely order and the army.
This would have been enough to earn Manohar Malgonkar a prominent place in literary annals, but his art stretched wider in time and space.
Apart from these topics, which made him a worthy heir to John Masters and Paul Scott, Malgonkar left his imprint across the genres of military and historical thrillers. From his pen came "The Devil's Wind" - a captivating account of the 1857 rebellion from the viewpoint of long-reviled (by the British) Nana Sahab - and in "The Sea Hawk: The Life and Battles of Kanhoji Angrey", the story of an Indian admiral who held his own against his European rivals in the Age of Sail and could have been the progenitor of a proud maritime tradition had his successors been more capable.
Then there is "Cactus Country", a remarkably even-handed coming-of-age adventure (and travails) of a young Pakistani army officer posted to then East Pakistan in early 1971; "Bandicoot Run", an engrossing espionage tale which has implications for the future of the top Indian military hierarchy; "Spy in Amber", a shadowy war between Indian and Chinese agents to acquire a treasure trove in a remote Buddhist monastery; and "A Bend in the Ganges", a moving account of the Indian freedom struggle - from the Mahatma's coming to the partition's bloodbath - through the lives of three people with differing views of accomplishing the objective.
Well-acquainted with political and social realities, Malgonkar could deal with the complex issues of race relations as in his tale of the British tea planter in Assam in "Combat of Shadows", political shenanigans including of the emergency in "The Garland-Keepers", and various issues including the prohibition in Maharashtra, election fund-raising, smuggling from then Portuguese Goa, new India's social climbers, exploitation of farmers and of the environment in short stories collected in "A Toast in Warm Wine", "Rumble-Tumble" and "Four Graves and Other Stories".
He had impressive credentials for his work. From a royal family himself, Malgonkar (1913-2010) served in the army during World War II, was a big-game hunter, a farmer and mine-owner and, most importantly, among the generation with living memories of watershed events for Indian history and society.
It was this background that he drew on for his two most famous works - his debut novel "Distant Drum" (1960) and "The Princes" (1963).
"Distant Drum" is an affectionate portrait of the Indian Army - once a mainstay of the British Raj, now adjusting to a new role in independent India. It follows a seasoned soldier, Lt.Col. Kiran 'Jacko' Garud, striving to keep his regiment up to scratch and dealing with new officers keen to uproot traditions, unsuitable officers and small-time political operators.
Transferred to a staff job in Delhi, he faces devious colleagues - and love. But the course of true love never ran smooth and his beloved's father - a powerful bureaucrat - intervenes to forestall it. In a memorable scene, Garud leaves him impressed with his commitment to his chosen career and to accept an exit from the scene. Posted to Kashmir, our hero finds he faces a former colleague on the other side and they have a New Year's reunion in No-man's land. This lands him in trouble, leading to a thundering rebuke from the army commander - and an invitation for a drink that evening. And, yes, he is reunited with his beloved, but not before he plays a "Bura Sahab" - to a former British commanding officer no less - in spurning an alternative career in business.
"The Princes", which would not be considered politically correct these days with its climactic scene of our hero literally taking matters into his hands to chastise a low-caste politician (who also received the same treatment from his father), is a dirge for the entirely princely order, which, despite all its glory and accomplishments, was ill-suited to the new egalitarian polity. It needs to be read as a testament for a certain India that received a mortal blow at Independence, though it may have lingered on for some years.
Unfortunately most of Malgonkar novels are out of print. Though a pitiful small number of books have been republished recently, his best work is unavailable. Can we count on the publishers to take remedial action?