Navratri marks its beginning in India on 21st September 2017, Thursday. Navratri falls twice in a year, the one falling after monsoon being known as Sharad Navratri. It is celebrated to commemorate the victory of good over evil. It is celebrated in India with full zeal and enthusiasm. It is a festival of nine nights, with each night assigned to each manifestation of Goddess Durga and her significance.  The nine manifestations or Nav Durga are pleased with special offerings and prayers. Here are the nine manifestations of Durga that are worshipped on each day of Navratri. 
Goddess Shailputri 
Shailputri means 'daughter of mountains'. She is shown holding a trishul and a lotus in her hands. She rides a bull called Nandi. She is the first among the Nav Durgas and is worshipped on the first day of Navratri. She is considered to be the rebirth of Sati.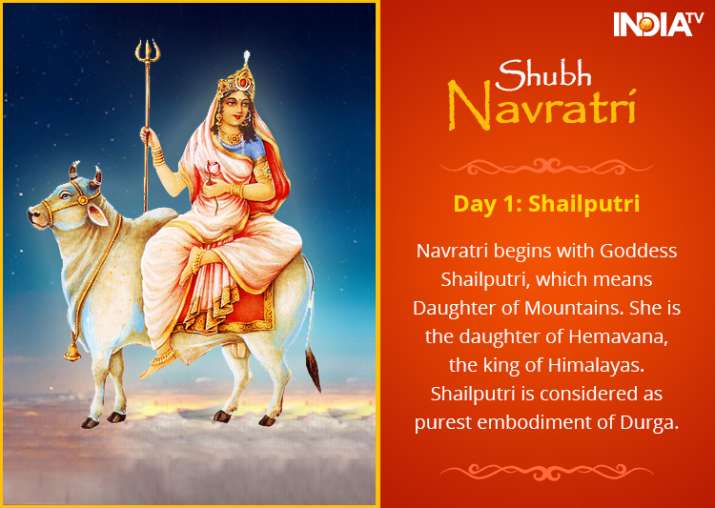 Goddess Brahmacharini
She is worshipped on the second day of Navratri festival. Brahmacharini is the second manifestation of Goddess Durga who took several rebirths to attain Lord Shiva as her husband.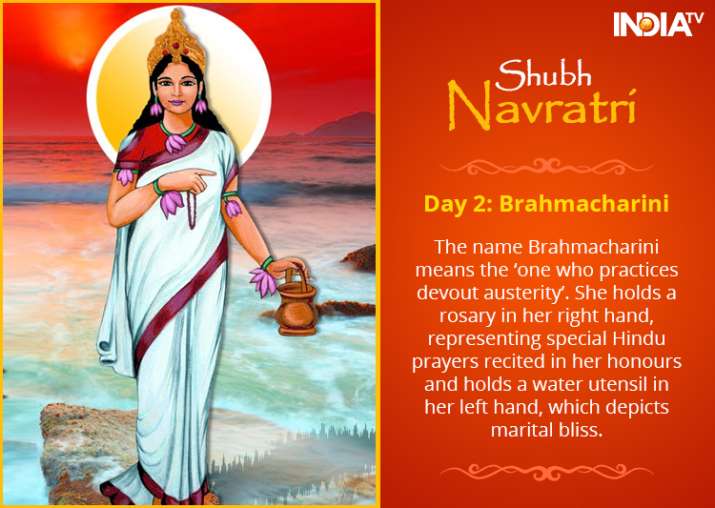 Goddess Chandraghanta
She is worshipped on the third day of Navratri. She is also known as Chandrika, Ramchandi or Chandrakhanda. She blesses her devotees with courage and bravery.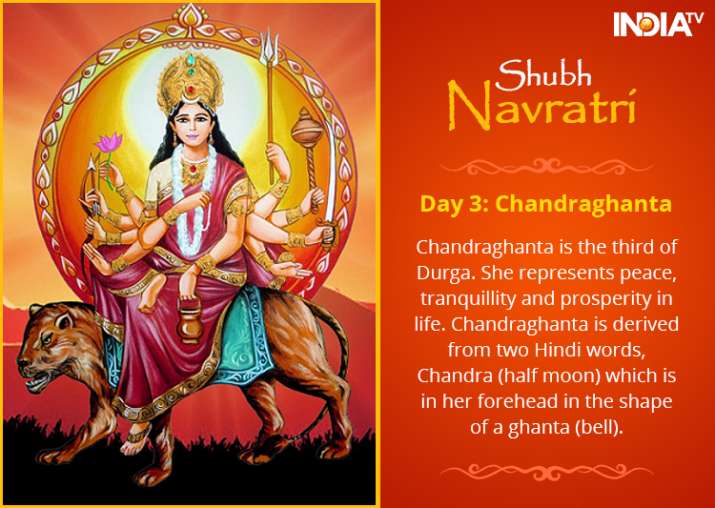 Goddess Kushmanda
Kushmanda is the fourth manifestation of Goddess Durga. Her name is derived from three words Ku which means little, Ushma means energy and Anda mean cosmic egg. She is believed to have ended the darkness in the universe with her divine smile.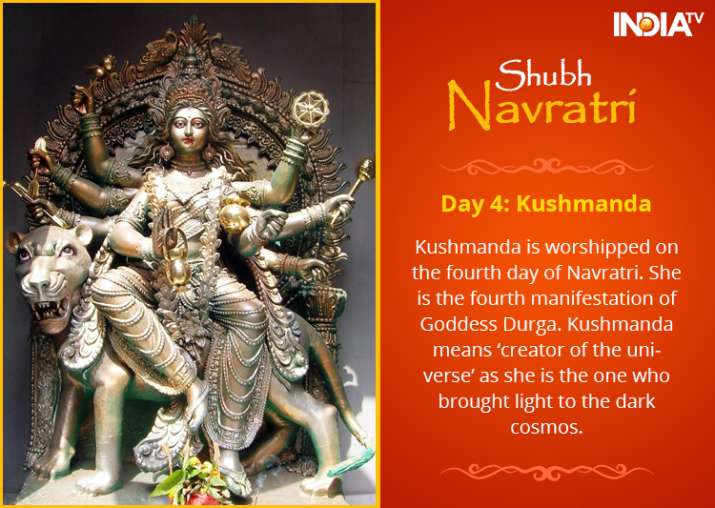 Goddess Skanda Mata
Skanda Mata is the mother of Lord Kartikeya, who was chosen as Commander-in-chief of God's army during war with Asuras. Skanda Mata is also regarded as the Goddess of Fire.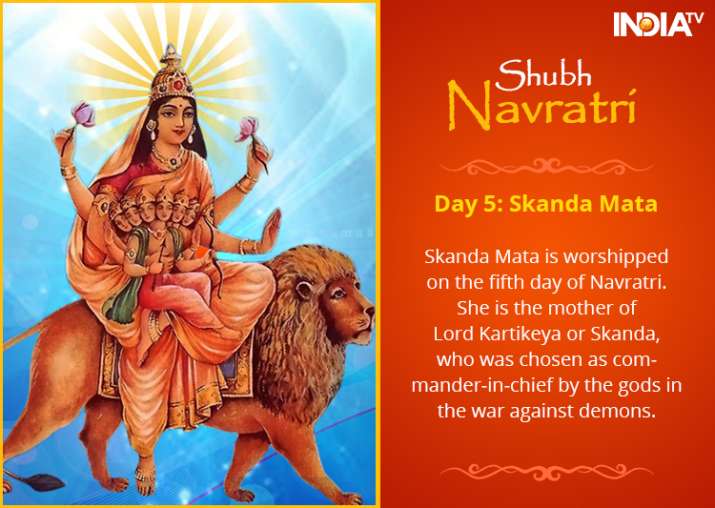 Goddess Katyayani
She is known as a Warrior Goddess. Goddess Katayani is worshipped on the sixth day of Navratri. She is said to have killed the demon Mahishasura. She is mounted on the lion gifted to her by Goddess Gauri.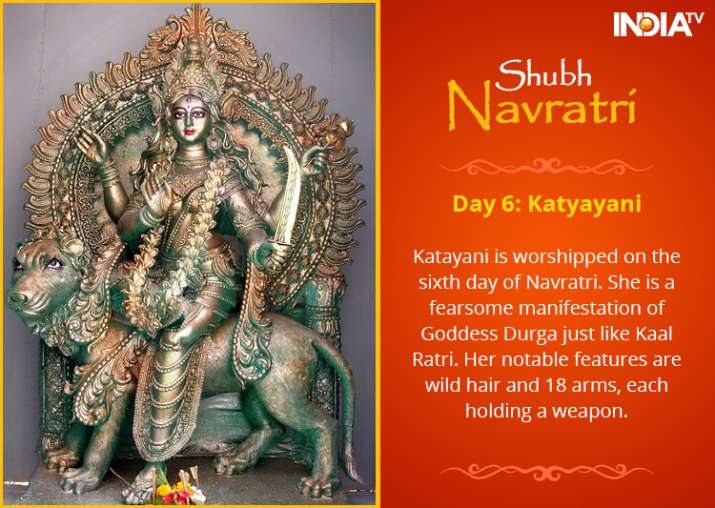 Goddess Kaal Ratri
Kaal Ratri is the seventh embodiment of Goddess Durga. She is known for destroying ignorance and evil from the universe. Shubhamkari is the violent incarnation of Goddess Durga. She is said to have drank the blood of demon Rakta Beej, who had potential to create more demons from his blood.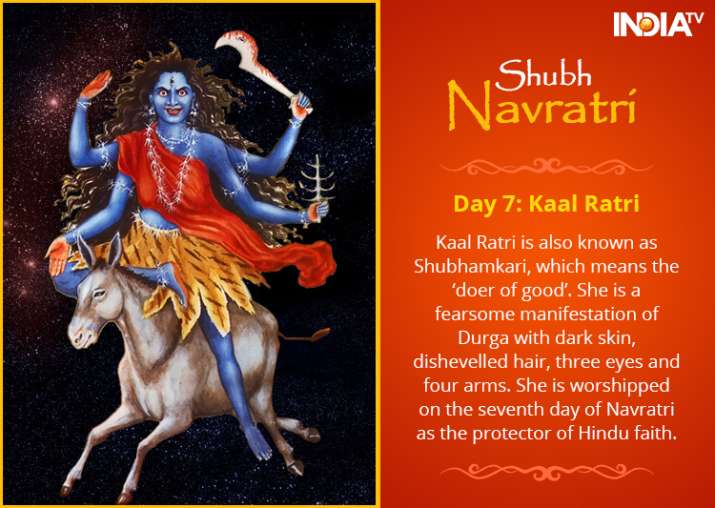 Goddess Mahagauri
Mahagauri is worshipped on the eighth day of Navratri. Her name stands for extreme whiteness, owing to her divine luminosity. She performed rigid Tapas without moving her body, hence collecting dust and soil on her body. Lord Shiva washed her with holy water of Ganga. Therefore, she is said to have utmost divine luminosity.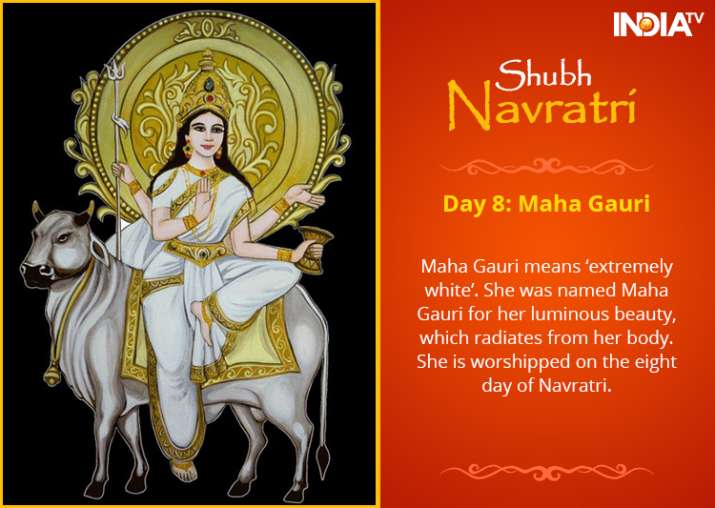 Goddess Siddhidatri
Siddhidatri is the ninth avatar of Goddess Durga. She provides knowledge and insight to her devotees. She is the supreme power of all perfect things. She is seated on a fully bloomed lotus and holds lotus, mace, conch shell and chakra in her hand.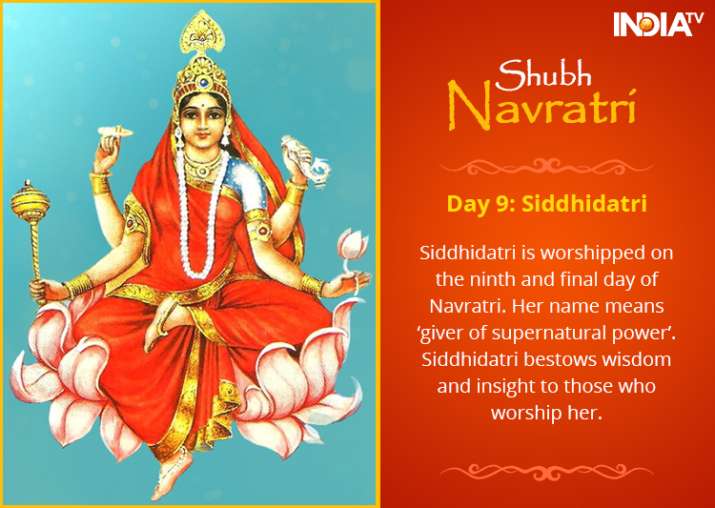 Shubh Navratri. Stay happy, stay blessed!