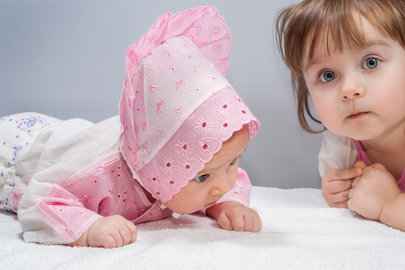 First-born children are smarter and tend to have superior thinking skills, quoted a research. First kids are also richer, better educated, and have higher IQ's. 
According to the researchers at the University of Edinburgh, observed about 5,000 children from birth to 14-years-old and assessing them every two years, found first-born children were at an advantage. 
The researchers concluded that that parents tend to give more mental stimulation to their first-born children than they do to the others, which has long-term effects.
For the study, the kids took multiple tests in vocabulary and math while the parents were grilled on their behaviour while pregnant, such as smoking and drinking. They were also asked how much mental and emotional stimulation they gave the child after he or she was born.
First-borns children tended to score higher on reading, math and comprehension skills from birth to 3-years-old.
"Researchers found that parents changed their behaviour as subsequent children were born," the study says. "They offered less mental stimulation to younger siblings also took part in fewer activities such as such as reading with the child, crafts and playing musical instruments."
Mothers also relaxed more with additional babies, smoking and drinking and not being paranoid about the results.
"Our results suggest that broad shifts in parental behaviour are a plausible explanation for the observed birth order differences in education and labour market outcomes," said Dr. Ana Nuevo-Chiquero, of Edinburgh University's school of economics.
(With PTI Inputs)