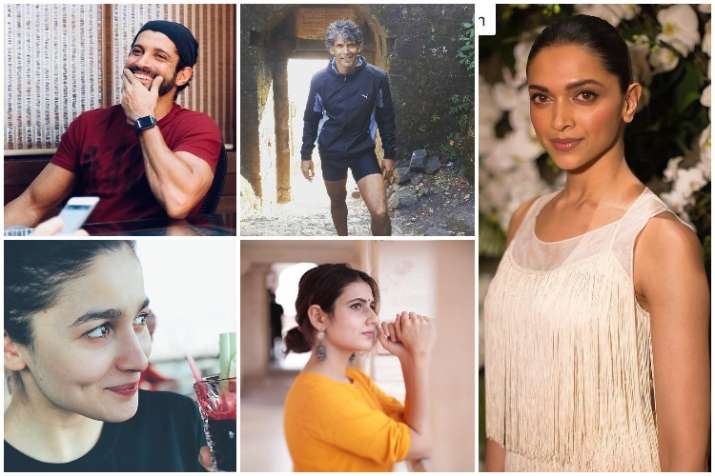 April 7 is being celebrated as World Health Day around the world. It is the day assigned to global health awareness by World Health Organisation. This year marks the 70th anniversary of World Health Day. The theme for this year's health day is Universal Health Coverage: everyone, everywhere. The slogan is, 'health for all'. Talking about health, there are many Bollywood celebrities who inspire us to stay physically and mentally fit. From Deepika Padukone to Milind Soman, there are a number of stars who have, time and again, given us the perpetual fitness goals. Let's have a look.
Deepika Padukone
The actress has not only inspired us with her rigorous workout videos, but also raised awareness about mental health. Every now and then, Deepika Padukone has spoken at lengths about depression and the stigma around mental health in our country. You can see her Instagram account that is full of infographics, educating her followers about mental health.
Milind Soman
When talking about fitness, this name cannot be omitted. In 2015, he completed the Ironman Triathlon in Zurich, which requires a person to do a 3.8 km swim, a 180.2 km cycle ride and a 42.2 km run. And all this has to be concluded without a break in 16 hours. The 52-year-old actor completed the course in just 15 hours and 19 minutes! His Instagram boasts of his fitness achievements in each picture.
Farhan Akhtar
Bollywood's sunny boy is known for his good looks, well-maintained physique and of course, poetry. His Instagram pictures get everyone swooning in no time. Apart from working out in the gym, the actor has opted the conventional methods like cycling and outdoor sports to achieve his fitness goals. Farhan Akhtar has, time and again, floored the audience for not only his performance on screen, but his svelte body as well and that too at 44!
Alia Bhatt
Do you remember those throwback pictures of Alia Bhatt before she made her debut in Karan Johar's Student Of The Year? The actress who was chubby back then is a completely transformed woman now. She lost 16 kgs in just three months to bag the lead role as Shanaya Singhania in KJo-directorial.
Fatima Sana Shaikh
Dangal girl Fatima Sana Shaikh looked really very convincible as Geeta Phogal in Aamir Khan-starrer. She has worked day and night to achieve the look that was required from her to nail the role of a wrestler. She shares her workout regime in her Instagram stories almost everyday. Having watched them, you cannot stop yourself from getting up from the bed and hitting the gym.