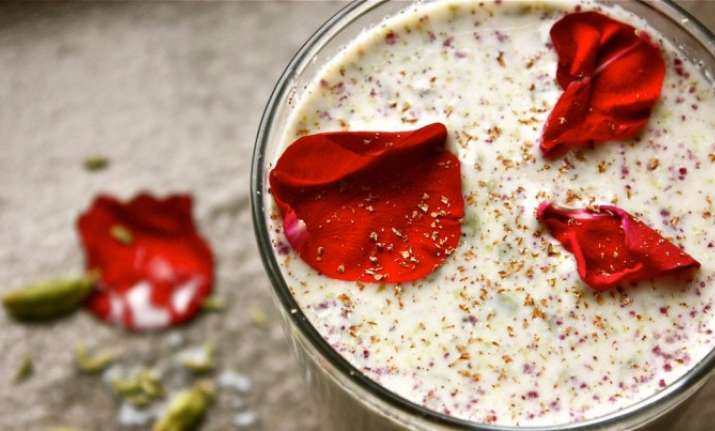 Holi is a festival of colours as well as sumptuous delicacies. While Gujiya, Mathri and Dahi Bhalle dominate the Holi menu, Thandai is also an indispensable part of your festivities. Thandai is a refreshing drink which is served on Holi festival. It is popular in Northern parts of India. The word Thandai means that which is cool or cools. It is derived from the word 'Thanda' which means cool in Hindi. Here is a quick recipe for making Thandai for Holi festival.
Ingredients for making Thandai
1 cup warm water
3 tbsp almonds
2 tbsp pistachio
2 tbsp poppy seeds or khus khus
1/4th cup melon seeds
2 tbsp dried rose petals.
1 tbsp fennel seeds
½ tsp whole black papper
3-4 green cardamoms
1 pinch saffron
½ cup sugar
1 glass chilled milk
Ice cubes
Rose petals, chopped almonds and pistachios for garnish.
How to make Thandai for Holi?
Take a bowl and pour some warm water. Add almonds, pistachios, poppy seeds, melon seeds, dried rose petals, fennel seeds and black pepper.
Mix them very well. Cover it and keep it aside for 1-2 hours. Wait for 4-5 hours if you're using normal water.
How to prepare Thandai paste?
Take the mixture in a grinder, add ½ cup sugar, seeds from 3-4 green cardamoms and a pinch of saffron.
Blend the mixture to get smooth and fine paste. Transfer the ingredients to a bowl and then keep aside. You can keep it in a refrigerator if you're not using it immediately.
How to prepare Thandai?
Take 4 tbsp of above prepare Thandai mixture in a glass. Add some chilled milk. You can also add water to dilute the mixture.
Mix them very well. Add some ice cubes.
Use rose petals, crushed almonds and pistachios for garnishing. Refrigerate and serve.