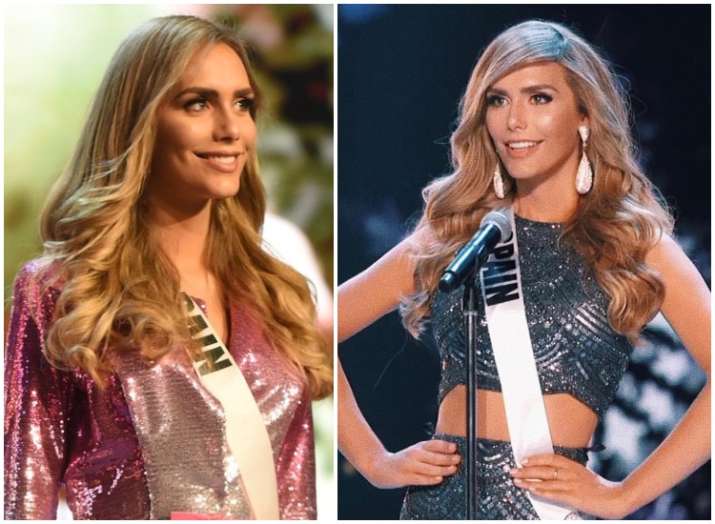 Angela Ponce, the Spanish representative at the 67th Miss Universe pageant couldn't get her hands at the crown but made history with as a participant. Miss Spain didn't seem to mind being a non-winner and was rather happy enjoying her moments on the stage.
As Ponce represented her country this year at the prestigious fashion pageant, she became the first transgender woman to compete in Miss Universe. After the preliminary rounds of the contest, Ponce said it was "an honour and pride" to be part of the history of the pageant.
"This is for you, for those who have no visibility, no voice, because we all deserve a world of respect, inclusion and freedom," Ponce wrote on Instagram on Friday. "And today I am here, proudly representing my nation, all women and human rights."
Though Miss Universe and other beauty pageants have undergone many changes in recent years to avoid objectifying women, the 27-year-old model said she embraced the competition as a chance to fulfil not only her personal ambitions but to be an ambassador for Spanish culture.
Ponce dressed up in a traditional white-coloured Spanish 'bata de cola' for her national costume. To tell all our readers, bata de cola is a stunning piece of costuming in flamenco. "This is an iconic piece in Spain, also known all over the world," Ponce explained on Instagram. "It is a precious reference of my country."
The pageant seemed to embrace her, too, tweeting a video of Ponce entering the stage with the caption: "A walk to remember. A historic night for #MissUniverse."
A walk to remember. A historic night for #MissUniverse. pic.twitter.com/wWT5TmWCRp

— Miss Universe (@MissUniverse) December 17, 2018
It was a sharp change for the Miss Universe organization, which was criticized in 2012 after disqualifying transgender woman Jenna Talackova from the Miss Canada competition that year because she was not "naturally born" a woman.
Ponce, who is from Pilas in southern Spain, acknowledged that it had been difficult at times to live as a woman "in a society where everyone said I couldn't do that" but credited her family for supporting her. "They saw to it that I did not have a traumatic childhood. They are my strength."
The 24-year-old model Catriona Gray was crowned as 67th Miss Universe pageant winner from Philippines!
Miss Universe 2018 is... PHILIPPINES! pic.twitter.com/r2BkN8JpXh

— Miss Universe (@MissUniverse) December 17, 2018
For all the latest Lifestyle updates, check out our Facebook page!