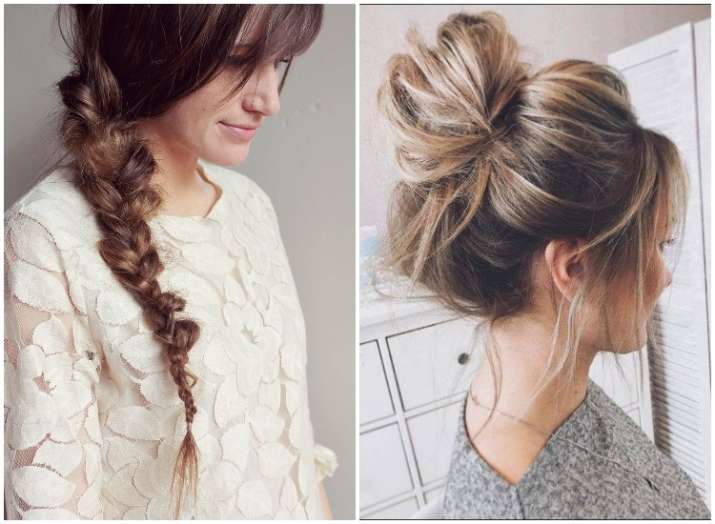 Whatever is the length of your hair -short or long, the age-long problem faced by women every day is 'bad hair day'. There are a few days when we women are lucky to click a selfie and use a hashtag that goes by #GoodHairDay. The reality is, we put in all our day's effort in discovering unique angles where our hair plays less role in the picture.
So it is rightly said that our hair is as moody as we are! One day, our hair will flaunt those curls perfectly, flowing beautifully and giving us all the reasons to fall in love with them. Other days, our hair will turn into a rat's nest, terribly tangled and ugly-looking.
In order to deal with the bad hair day smartly and to show-off that shiny and frizz-free hair, here are few easy tips!
Keep your knot tight
Not only is this style a hot favourite on the runways but it's oh so easy to create and is ideal for medium to long hair. 
Little buns are cute
Yes, the top knot is a bun but there are many other ways to wear a bun. You can wear it tight and low. Or you could wear a looser bun to the side. It all depends on the length of your hair. 
Braid your way
Braids hide oily and frizzy hair and look neat at the same time. Braids, in any form, make for the prettiest of hairstyles and that's exactly what you need to turn your bad days into good ones. So, know the basics and create all kinds of styles using braids; be it French, fishtail and dutch braids.
Tip: Go for a one side fish-tail braid/ normal braid. Pinch the hair out a little to make the braid appear voluminous. 
Head-wrap is the key
Technically this isn't a hairstyle but more of a cover-up. Yet there are ways you can wrap a scarf that allows some of your hair to show. The great thing about a head-wrap is that there are so many different ways to wrap your hair. Wraps are perfect for short hair.
Accessorise your hair
Get your best hair accessories out for your bad hair day. Hair bandanas are in trend these days. Put your hair up in a messy bun and use a floral/printed bandana and tie it up a little above your hairline. That way, you even cover the limp hair and give an instant statement to your hair look making you forget you have a bad hair day.
(IANS Inputs)
For latest Lifestyle updates, check out our Facebook page!
Also Read -5 most common hair problems with easy and effective solutions
Also Read -Protect your hair organically with natural shampoos, oils, and serums
Also Read -Yami Gautam shares 5 natural beauty tips for gorgeous skin