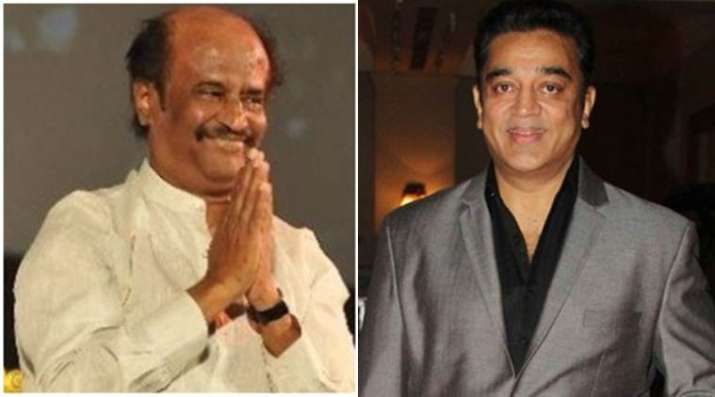 Days after he ruled out an alliance with actor Rajinikanth's political party if the latter acquires a saffron hue, actor Kamal Haasan on Sunday called on Rajinikanth at his residence here.Haasan told reporters that it was a "friendly meeting". Both the actors have announced their decision to plunge into active politics in Tamil Nadu.
Haasan will start his political journey on Wednesday from Rameswaram in Tamil Nadu. He said he is embarking on an important journey of his life and before that he would like to meet the people he likes.
The 63-year-old superstar had said his colour of politics is "black" signifying Dravidian.
Rajinikanth, on the other hand, has announced that he would follow spiritual politics. He will announce his party's name on Wednesday.
The actor-turned-politician, who is set to announce his party and its guiding principles this month, believes Hindu extremism is a threat and he cannot just keep complaining about it. 
"Except for the two films which are coming out, there will be no more films for me," declared Haasan in an interview to private news channel India Today at Harvard University in Boston.  On being asked whether he would stick to politics even if he loses the election, he said, "I will have to do something for an honest living. But I don't think I am going to lose."
As for his confidence, the superstar said, "I may not have been a political entity but we have been in social service for 37 years. In these 37 years, we have collected about 10 lakh loyal workers. 
"They are with me for the past 37 years. At my instruction, they have engaged more and more younger people in our welfare movement over the years including about 250 lawyers. All would become volunteers."
The 63-year-old actor, who is forming a new political party, added, "I am earnest. I am not here to improve my bank account. I could have led a happy, retired, popular life. My decision to come into politics is as I do not want to die merely as an actor. I will die in the service of people and that I have promised myself."
(With IANS Inputs)