 Movie Name:Dhadak
Critics Rating: 2.5 / 5
Release Date: July 20, 2018
Director: Shashank Khaitan
Genre: Drama
Nagraj Popatrao Manjule's Sairat was a sleeper hit of Marathi cinema, which minted over Rs 100 crores at the box-office. Sairat had its remake in Kannada, Punjabi, Odia, Bengali and now Hindi. Sairat was a commercial movie unlike Manjule's previous works but was as hard-hitting as his other creations. The story revolved around two college students who fall in love but their caste difference triggers mayhem.
Sairat's Hindi remake, Dhadak is nowhere near to its original. Introducing late veteran actress Sridevi's daughter, Janhvi Kapoor along with one-film old Ishaan Khatter, this Dharma Productions' creation has failed to even touch the essence of Sairat. Though politics and power have been made evident in the film, social differences have been completely ignored. Such a Bollywood style! Makers asked a character to say 'unchi jaati' twice and they are done with portraying the deep-rooted caste differences. No doubt, we get to see the class difference as Madhukar Bagla (played by Ishaan Khatter)'s father is a restaurateur with a lake view and Parthavi Singh (played by Janhvi Kapoor) belongs to a political family.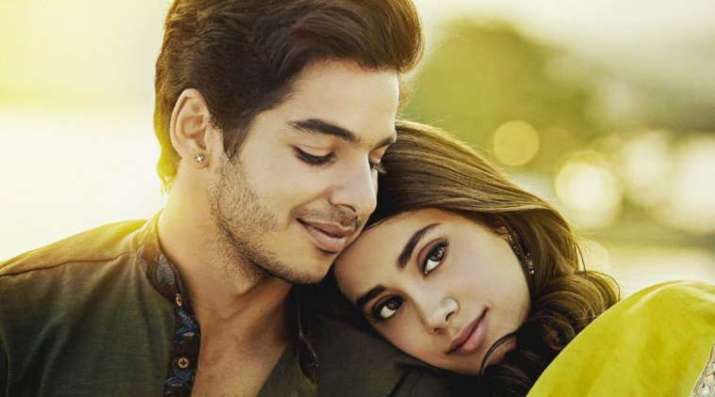 Still, Shashank Khaitan has failed to exploit the caste and class differences, which should have been made more apparent to make a love story amidst socio-political disturbances. Bollywood mostly refrains from touching upon sensitive social and political issues and when it does it completely omits the crux of it (like Dhadak).
Having said that, let's come to the plot. Two college-going students of Udaipur fall in love and then elope to find solace to let their love nurture. You can see gender role swapping with Parthavi riding a bike and Ishaan working in a kitchen. However, Khaitan didn't let the moments of love between the lead pair bloom. You don't connect with their innocent love and their romantic conversations. Leaving beside one dialogue where Parthavi asks why is he (Madhukar) not looking at her to which he gives an account of her looks in past two days, none of their conversations strike a chord. A couple of scenes from Sairat filmed on Rinku Rajguru and Akash Thosar have been recreated.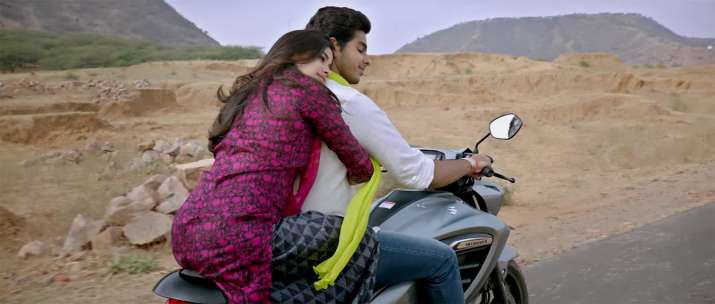 Talking about the performances, Janhvi looks plain with restrained expressions in the first half, however, her performance lifts surprisingly after intermission. Scenes in which her character is shown struggling with loneliness and homesickness have been well-performed by Janhvi. Even the scene in which the lead pair is struggling with trust issues has been played good. Ishaan is undoubtedly more emotive and expressive than Janhvi. However, he is not as good as Beyond The Clouds, maybe because this is not Majid Majidi's directorial. Ashutosh Rana does most of the talking with his eyes and sends chills down the spine, everytime he appears on the screen. Besides, these main faces, we had Ankit Bisht and Shridhar Watsar playing Ishaan's friends. Well, these two characters which were reduced to bring comic-relief amidst intense scene in the movie had special importance in Sairat. Both the characters brought the social disadvantaged groups to the forefront. While one was Muslim, who worked in a garage, the other one was a physically-challenged person. Aditya Kumar, who played Parthavi's brother and Kharaj Mukherjee, who essayed a good soul mark their presence effectively.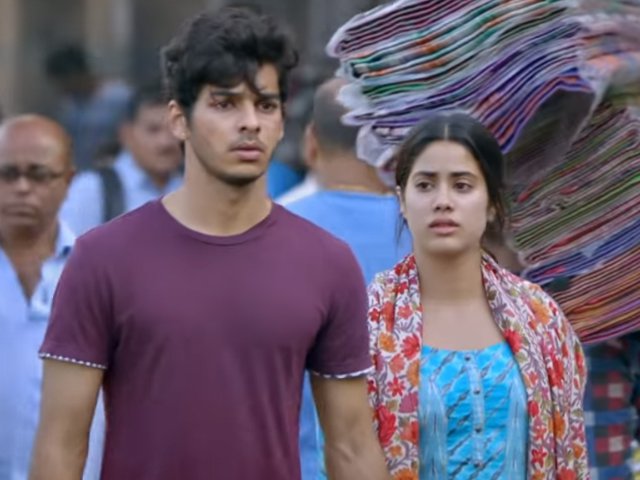 The story travels from Udaipur to Mumbai and Nagpur and finally to Kolkata. The beauty of each city has been captured with utmost grace by cinematographer Vishnu Rao. From mesmerizing lake views in Udaipur to hustle-bustle of Kolkata and Mumbai, Rao gets the essence right in his frame.
However, it will be an entertaining watch for those who haven't seen Sairat. They will enjoy the polished-up and playfulness of the love saga woven around honour killing. The ending could have been better if Janhvi would have worked on her expressions. Dhadak would have really been impactful and a big change in the commercial cinema if it would have shown what it means to belong to a lower caste. A big banner and starry promotions have failed to show what Nagraj Manjule single-handedly succeeded.