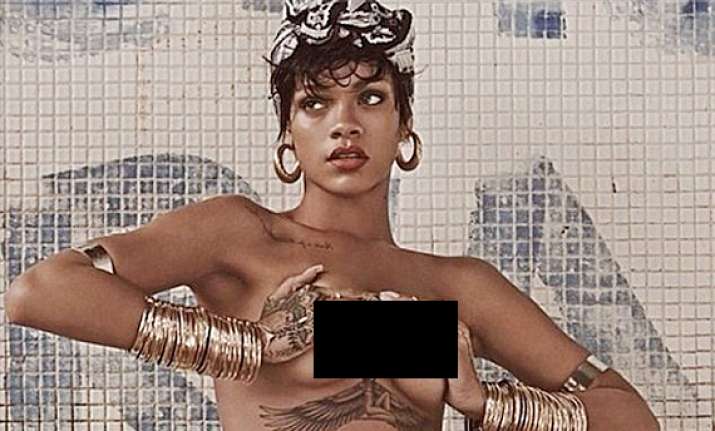 Rihanna, the fearless pop singer has recently shot nude for a magazine. She doesn't escape any chance when it comes to show off her petite figure and this time she has created a stir and appeared topless for the May issue of Vogue Brazil.
In one of the racy pictures that she has recently posted on Instagram, the lady can be seen hiding her bosoms with her hands as she wears just a sheer sequined skirt over the body. There are many like pictures where Rihanna has put her incredibly toned frame on display in the magazine.
While she covers her modesty with her arms in one of the other raunchy pictures, she can be seen wearing just a blue jacket with denim hot pants as she walks down the streets.
Rihanna, who has got several funky tattoos over her skin all over has given ample view of her inked places in the pictures. A dark red lipstick with a few gold accessories consummate her look in every stride of the photoshoot.
In an another sultry shot, the Barbadian beauty can be seen stretching her bare figure up towards the sun in a forest set up with just a golden bikini bottom on.
And in another snap for the magazine shoot, the 26-year-old is letting her body feel the touch of sea waves as she wears a wet sheer dress.
There are two covers designed for the magazine and while the one has Rihanna posing in a metallic plunging neckline, in the other one, beautiful Rihanna is covering the magazine giving seductive expressions in a close-up shot.
After being done with the shoot for the magazine, Rihanna tweeted, 'We shot this entire shoot in Brazil with my lover boy @teamvivanco,' tagging the photographer Mariano Vivanco. Rihanna added: 'Brazil I miss you
already#VOGUE #Brazil @voguebrasil.'
The energetic star was recently in news for going braless in a white tank top at a basketball match.
The singer gave brasserie a miss while attending a playoff match-up between the Toronto Raptors and Brooklyn Nets in New York City Friday, sitting courtside in a see-through white tank top and ripped jeans next to her best friend Melissa Forded.