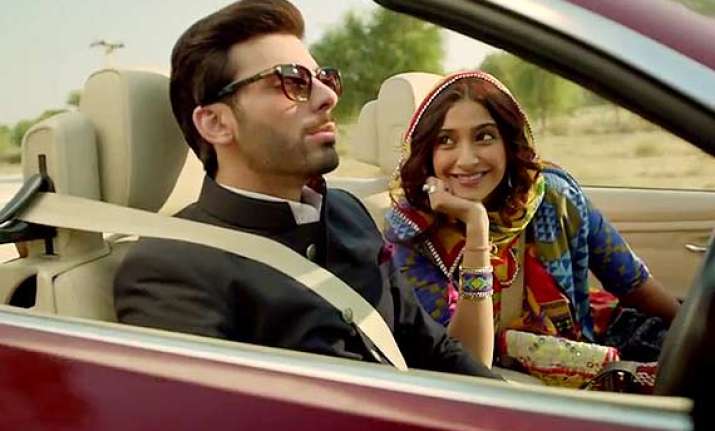 New Delhi: Sonam Kapoor starrer Khoobsurat is out with its first trailer and no doubt the film promises a colourful punch.
Being whole heartedly a Sonam Kapoor film, Khoobsurat appears a truly 'khoobsurat' movie showcasing pretty Sonam Kapoor in her bubbliest self on screen.
The male lead of the film, Fawad Khan, who has already created a stir with his performances on small screen, is debuting in Bollywood with the film and his character looks matching his persona.
Grooving around its theme of 'the royal misfit,' the trailer starts disclosing each character one by one introducing interesting Ratna Pathak playing the royal mother of Fawad Khan aka prince Vikram Singh Rathore and then finally establishing the ever so blasting character of Kirron Kher, who plays 'Manju', mother of Sonam Kapoor aka Milli Chakravarty.
While Milli is a free spirited lady, so free and untamed that she calls her mother by name and seems perfectionist in damaging every other royal antic thing that comes in her way.
The plot has been set around how the lady and the prince involves in love when Dr. Milli Chakravarty visits the palace to cure the royal father.
While the treatment given to the film seems beautiful with all those mesmerizing locales in the background and a truly vibrant tone in its cinematography, the acting prowess of both Sonam and Fawad appear lacking somewhere.
Though it is too early to comment on how the main leads have performed in the film, Khoobsurat looks like a good baked colourful creamy cake ready to be cut only when in the mood of fun and laughter.
Ratna Pathak is enviable, rocking her popular 'I am a sophisticated royal woman' avatar (remember her Sarabhai vs. Sarabhai) and Kirron Kher too is splendid in her quintessential Punjabi daring outspoken mummy character.
Watch the trailer of Sonam Kapoor and Fawad Afzal Khan starrer 'Khoobsurat' here...      
Khoobsurat seems to be taking a khoobsurat stance on love and appears a good entertaining light hearted film, a film that leaves you with a sweet smile when you consummate watching it!
Khoobsurat is directed by Shashanka Ghosh and is produced collectively by Anil Kapoor, Rhea Kapoor and Sidharth Roy Kapur.