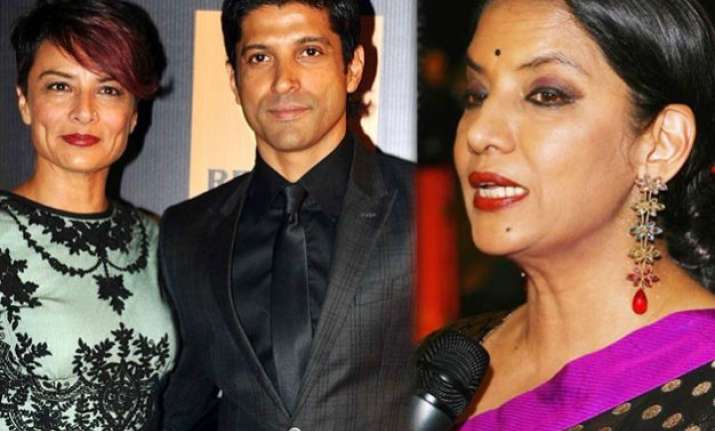 New Delhi: Bollywood has been the centre of break ups and separations lately with star couples calling it quits. Farhan and Adhuna Akhtar is one such duo who shocked the tinsel town with their divorce news.
The couple issued an official statement on getting divorced after 16 years of marriage.
As expected, the separation news called for the rounds of speculations over the reasons behind. And Frahan's 'Wazir'co-star Aditi Rai Haydari was cited as the main cause of split.
But, it seems, the divorce news has started affecting the Akhtar family and the latest reaction from Shabana Azmi is the proof of that.
Shabana, who is busy promoting her upcoming film Neerja which features Sonam Kapoor in the lead, has been giving several interviews from last few days.
However, at the interviews, she has been bombarded with questions over Farhan and Adhuna's divorce instead related to movie.
This trend from media has pissed her off and the veteran actress has threatened to walk out from the interviews if questions related to Farhan's divorce are asked.
Though, few days back, Shabana Azmi opened up on her step-son's divorce during an interview with a leading daily.
She said, "Marriages are not just falling apart in the film industry, but also in many sections of society. Expectations from marriage are changing. When I asked Zoya, she said, 'Because today women can, they have a choice and they exercise it. Marriage is not a one-way street. Both partners have to adjust to each other. The concept of made-in-heaven is defunct".
Now, seeing her latest reaction, we guess the lady wants to keep the family matter under wraps.