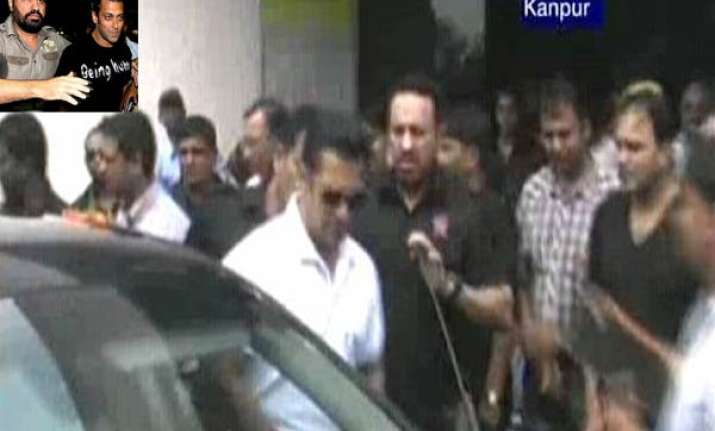 Kanpur, Aug 26: A police complaint was lodged against Bollywood star Salman Khan and his bodyguards after they allegedly thrashed anti-corruption activists who wanted the actor to join their agitation, reports Times of India.Reports said India Against Corruption activists were beaten up when tried to approach Salman when he was returning from a function at Kakadeo in Kanpur.  

"His bodyguards hit us as soon as we moved near his vehicle. We just wanted to present him with Anna `topis' and have his autograph on anti-corruption material. There was no provocation," activist and Jan Rajya Party president Deepak Bharat told TOI.An ex-IITians group has founded the Jan Rajya Party.
Eyewitnesses said commotion started as soon as slogan-raising activists tried to approach Salman's vehicle."Salman's bouncers manhandled the activists when they approached his car.There was no provocation except the anti-corruption slogans the group was raising," said an eyewitness.
The activists, carrying national flag and wearing Anna `topis' and T-shirts, raised slogans like `Anna Hazare Zindabad' and `Anna Tum Sangharsh Karo, Hum Tumhare Saath hain' when Salman's bodyguards allegedly hit Jan Rajya Party Omendra Bharat general secretary and he fainted and fell on the ground.Some protesters blocked the road and raised slogans against the actor while others were seen arguing with the cops who tried to control the situation.
Omendra said he filed a police complaint against the actor and his bodyguards for manhandling the activists when they tried to present Salman an Anna `topi'. Inspector Upendra Singh Rathi said police have got the complaint and they were investigating the mater. "Necessary action would be taken if the charges are found to be true."

Another activist Upanshu Jaiswal said people were everywhere, blocking gates, on the boundary walls, rooftops and on both sides of the road leading to the venue where Salman was attending the function. "The crowd surged forward to have a glimpse of the actor as he came out of the venue."