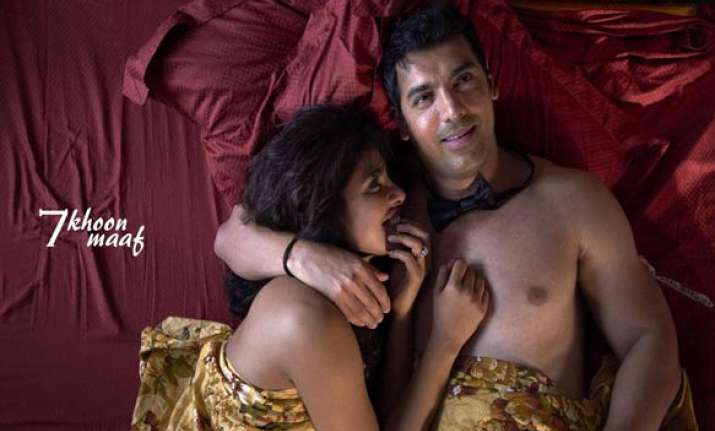 Unhappy at being treated at par with Priyanka's other six screen husbands, Bollywood hunk John Abraham is reported to have boycotted all promotional events for Vishal Bhardwaj's film  7 Khoon Maaf, says a media report.
Vishal Bhardwaj was unambiguous from the very beginning that all seven male actors opposite
Priyanka Chopra
   shall have a level playing field, but John wanted something different, says the report.
John Abraham, who has no issues playing second fiddle to his leading lady, is unhappy with the fact that the filmmakers are not treating him any differently from the other actors.
John, who is used to his PR exercises and elaborate media calls, has decided to stay away from the promotions, much to the chagrin of the team of  7 Khoon Maaf.
The report quotes a source,  "John was not ready to share the limelight w i t h Priyanka's other six screen-husbands. He was under the impression that he would be given more prominence over his colleagues and not be relegated to being 'just another husband' in Priyanka's domestic harem."
Sources also say that the only actor he did not mind sharing the limelight with was his colleague from New York, Neil Nitin Mukesh.
However, John was in for a rude awakening. Says the source, "Vishal was very clear that none of the seven male leads was going to get any preferential treatment in the film, or otherwise. Each of them is an equal and important chapter in the protagonist's life. Be it Naseer, his son Vivaan, or even John."
John, who was hoping to be greeted with posters and hoardings featuring him with Priyanka, boycotted the promotional events which the director had meticulously planned keeping all seven actors in mind.
"With Vishal refusing to oblige John, the star took it rather personally," says the source.
The Vishal-John scrap of course means that Priyanka continues to enjoy her spot in the sun.