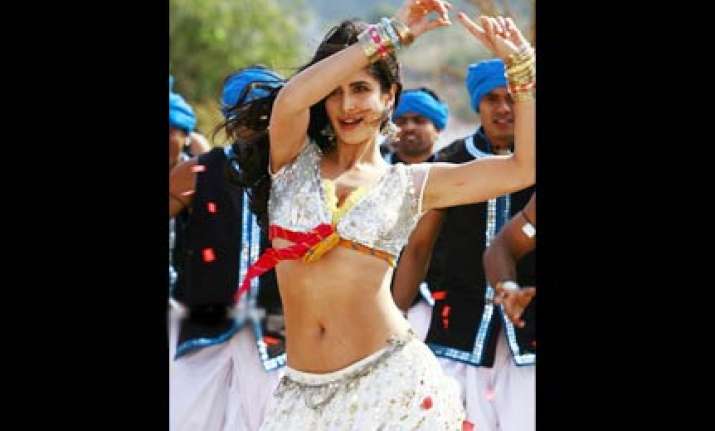 Bollywood superstar Katrina Kaif has developed abdominal pains after a lesson in belly dancing. Her stomach muscles cramped while shooting for Farah Khan's forthcoming film Tees Mar Khan, reports Mumbai Mirror.
While rehearsing for the hot number Sheela Ki Jawaani  on Monday,  Katrina developed a catch in her stomach muscle. The incident happened in the early hours of the afternoon.
Wonder what she had for lunch? Says an eyewitness, "The moment it happened, Katrina shrieked out loud. Farah ran towards her."
At first, Farah couldn't understand what went wrong with Katrina. Apparently, the actress couldn't even speak for a while because she was in a lot of pain. But when she gestured towards her stomach, Farah understood what had happened.
Katrina's sudden discomfort was a bit surprising to many, considering it was the seventh day of rehearsal. But eyewitness added, "It's a very difficult dance form. You have to see it to believe it."
When contacted, Katrina denied the story. Putting up a brave front, she said, "I am fine. I am training very well," but some amount of discomfort did surface when she added, "I have pain in my knees and nowhere else."
However, Farah Khan, who is choreographing the song, confirmed and said, "We packed-up the rehearsal today as Katrina was in a lot of discomfort. I hope that she will be fine in the next one or two days.  For tomorrow (as in today), I have given her an official holiday. As it is, she had been rehearsing this song for the last six days at a stretch."
The actual shoot of Sheela Ki Jawaani starts on August 21. After Tees Maar Khan hits the theatres, Katrina will be at par with Shakira. She has never looked this hot."