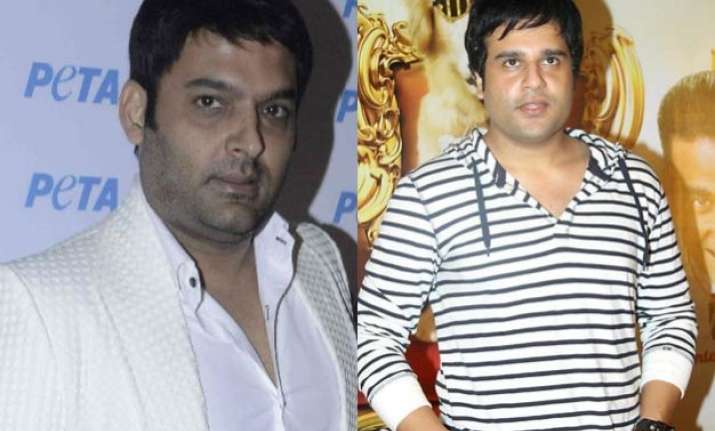 New Delhi: It's been only a week that comedian Krushna Abhishek's show 'Comedy Nights Live' has gone on air. However, that hasn't deterred it from becoming one of the hot topics of the television industry. The abrupt end of comedian Kapil Sharma's show, the replacement of 'Comedy Nights with Kapil' by 'Comedy Nights Live' and the friction between Colors and Kapil have all added fuel to the ongoing controversy.
Amidst all the drama which is taking new turns every day, it's hard for the rivalry between Krushna Abhishek and Kapil Sharma to escape public eye. Krushna was chosen to fit into Kapil's shoes, a difficult task we must say, given the latter's fan following. As expected, he did not receive an overwhelming response from the audiences. But, he is hell bent to change that.
During one of his recent interviews with a leading daily, Krushna spilled the beans on what triggered the bitterness between these two comedians. There was a time when both Ks, Krushna and Kapil, were the soul of Sony channel's highly watched show Comedy Circus.
Krushna revealed that it was after Kapil got his hands on a new show that they started drifting apart. "On Comedy Circus, the audience loved us all — Sudesh Lahiri, Bharti, Kapil and me. Once he got his own show, he called us to be part of it. But I didn't want to be part of an entourage. I would have accepted his offer, if we were given equal status. That's when it became an issue," he said.
Actor Govinda's nephew, who has worked with Ajay Devgn and Abhishek Bachchan, said he too was hurt when he wasn't invited on CNWK to promote his movie. "I wasn't even invited as a guest to promote my movie, Entertainment (2014), on his show."
Will his equation with Kapil ever change? "We respect each other. But we are not friends. We spoke on New Year's Eve. He knew that I was replacing him, but we didn't talk about the show," he answered.
Now that it is out in public how the fight started, only time will tell if Kapil and Krushna ever decide to bury the hatchet.