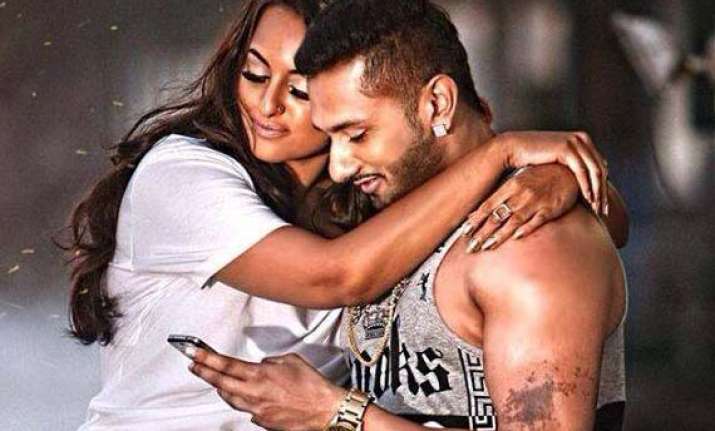 New Delhi:  We have already shown you the teaser of Sonakshi Sinha and rapper-singer, Yo Yo Honey Singh's Desi Kalakaar and now finally after much wait the song has been released.
 In the very first look, the song looks truly international and Honey Singh has something different to show his fans.
The song aptly titled Desi Kalakaar as it has every element of masti and fun that the international rapper is known for.
This video is shot in the deserts and is quite fast paced. In fact Sonakshi is seen in a different avatar. In the video, we can see Sonakshi Sinha playing a Punjabi kudi who is madly in love with her beau Yo Yo. 
The rapper sings the song for her as he elopes with his ladylove only to be caught in the end by her super rich father.
The curvaceous actress can be seen donning a crisp hot pants with a checkered shirt tied over it, a black camisole beneath a biker jacket and an interesting cap.
 The song has been shot like a story. With preceding and succeeding scenes and this song is about 10 minutes long short film.
Apart from Sonakshi and Yo Yo, the famous baddie of B-town, Gulshan Grover too stars in this video. He plays rich dad of a beautiful girl who fell in love with an 'artist'.
The video has been shot on exotic locales and will surely work with fans of the rap star. The song which has been composed and penned by Yo Yo Honey Singh himself has been a big talking point among the film industry people. The song has nicely depicted the naughtiness in the singer-composer.
Watch song here...
The singer who recently came out with his 'Issey Kehte Hai Hip Hop' didn't get appreciation for the song but we think 'Desi Kalakaar' will turn out to be huge hit.
Both Yo Yo Honey Singh and Sonakshi Sinha had earlier worked in 'Party All Night' along with Akshay Kumar in his 'Boss' and their togetherness in this song is also appreciable.
There is no second thought that the USP of the song remains the highly intriguing story set by Yo Yo himself but the song will add heavy doses of fun to your wit.
As we told you earlier, Sonakshi Sinha totally justifies her character of 'cool' girl with typical Punjabi accent.
The number is a sure shot entertainer and has a full potential to force you to tune it over and over again.
'Desi Kalakaar' reveals not just perfect amalgamation of fun, romance and naughtiness, but also the distinctive emotions of the two lovers who want to be together.