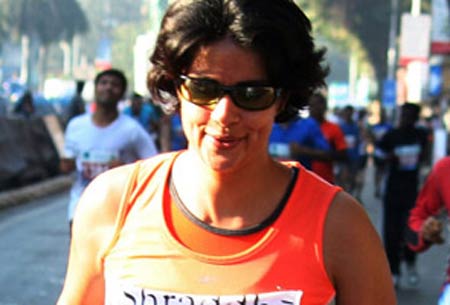 Bollywood actor and former Miss India Gul Panag was molested by unidentified 'runners' during the Delhi half marathon on Sunday (Nov 21).
Gul, who is a regular runner and has taken part in several marathons, was outraged when several men at the starting point of the race took advantage of the crowd to feel her up, she alleges, reports Mumbai Mirror.
"It's the women-in-crowded-place syndrome and typical of Delhi—grope. And it's not even surprising. I am a marathon runner and I've run a dozen-odd half marathons. There are always crowds, but this was my first marathon in Delhi. This doesn't happen in Mumbai. But like I said, it's expected in Delhi— it's part of the culture," Gul told Mumbai Mirror.
To her credit, despite being flustered by the incident, Gul went on to complete the run at an easy, chilled out pace. "I clocked 2.20 hours," she confirmed.
A sizeable contingent of celebrities from Mumbai was in Delhi for the event, including
Bipasha Basu
, Arshad Warsi, Rahul Bose,
Urmila Matondkar
and Dhanraj Pillai, but most of them confined themselves to cheering from the grandstand.  
Anil Ambani, a regular participant in the Mumbai marathon, was among the more well-known names from Mumbai who participated in the half marathon.
While Gul was still recovering from this unpleasant incident, Gul said the offenders took advantage of the general melee to get away, and since there was no clear identification she decided not to file a police complaint.  
"Against which one of the 400 odd people I was stacked with at starting point shall I file a complaint?" she said.
Asked if the organizers should arrange a separate lane in the future for women runners at the Delhi marathon, Gul said, "I run 21 kilometers. It's simply not possible. One expects basic decorum from those who participate in such events."  
Nevertheless, the actor said she won't let the incident deter her from participating in the Delhi marathon in the future. "Of course I'll run again. I am a fighter."