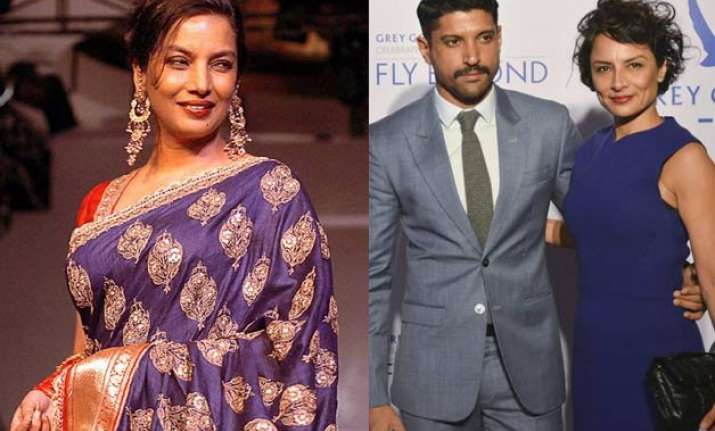 New Delhi: The tinsel town has recently been rocked with several celeb break-ups. While the most shocking split was that of Ranbir Kapoor and Katrina Kaif, the industry was left dumbstruck after actor Farhaan Akhtar announced his divorce with Adhuna.
Farhaan had been married to for 16 years and their divorce was the least expected thing as the couple shared an amazing bond.
While neither Farhaan nor Adhuna spoke about the reason for their split, it is speculated that it is Farhan's alleged extra-marital affair with Aditi Rao Hydari that is making the couple call it quits.
And Farhaan's step mother Shabhana Azmi has opened up on his divorce.
Recently, when a leading daily quizzed her about the ongoing break-up season in the industry, Shabana said that the concept of made-in-heaven is defunct these days.
"Marriages are not just falling apart in the film industry, but also in many sections of society. Expectations from marriage are changing. When I asked Zoya, she said, 'Because today women can, they have a choice and they exercise it. Marriage is not a one-way street. Both partners have to adjust to each other. The concept of made-in-heaven is defunct'," Shabana was reported saying.
While talking about Farhan's divorce, the veteran actress stated that she has always shared a great bond with Adhuna and it won't change.
"I've always had an independent healthy relationship with Adhuna and it will always remain so," said Shabana
Shabana Azmi will soon be hitting the silver screen again with the much awaited biopic 'Neerja' in which she'll be seen playing the role of Neerja played by Sonam Kapoor. The movie will release on February 19.