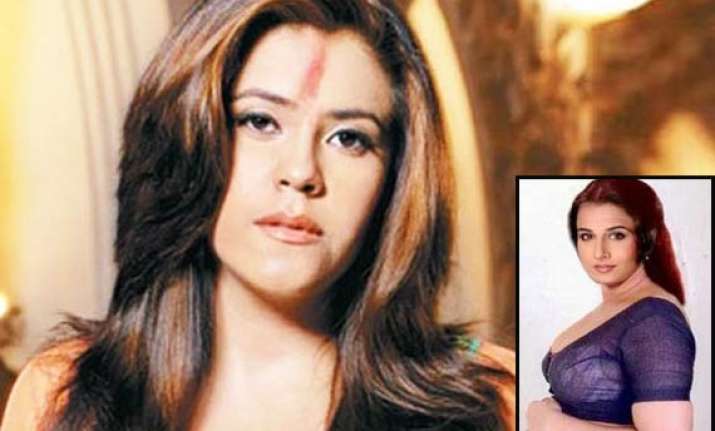 Mumbai, May 28: Film producer Ekta Kapoor has banned cell phones from the sets of Dirty Picture to keep the look and feel of the film from leaking, says a Mumbai Mirror report.

Karan Johar tried hard to keep every character's role in his rendition of Agneepath from leaking out, but to no avail.

The lead actor Hrithik Roshan's 'Vijay Dinanath Chauhan' look was revealed in Mumbai Mirror.

To make sure that this doesn't happen, producer Ekta Kapoor has gone one step ahead to secure the look and feel of her forthcoming film Dirty Picture. She has banned cell phones from the sets of the film.

The film based on 80's item girl Silk Smitha and starring Vidya Balan, Naseeruddin Shah, Emraan Hashmi and Tusshar Kapoor in the lead will have a very different 'bling' look.

And to keep it from leaking,Ekta has asked not just the cast and crew to leave their mobile phones at home,but also asked visitors to come sans a cell phone.

Ekta Kapoor said,"Every actor in the film will essay the role of an individual from the South Indian film industry.Tusshar will play a struggling writer while Naseer will essay the character of a grown up actor who works in children's films in the eighties.

"This is the first time a Hindi film will depict the South Indian cine industry.There are different colours to each character and everyone has a specific look.The cell phones on the sets can ruin everything for us."

"We keep on hearing of incidents about looks being revealed and I don't want that for my film.I want to bring out every look in the proper way,"added Ekta.

Speaking about the look of the characters in her film,she revealed,"The men in my film are not going to look hot - Naseerbhai will be seen wearing wigs.I am dreading that he might end up looking scary.I don't want the characters to look like caricatures."


"Vidya,however,will be seen in revealing clothes.She has three or four different looks in the film,"she added,about the female protagonist in Dirty Picture.

When asked whether the added precautionary measures could be attributed to the 'sexy' clothing of Vidya in the film, Ekta said, "It is not a sexy film. It is a commercial film.

"It is a celebration of the eighties.It is bling and inyour-face funny.We have all worked very hard on the look of the film and don't want any random cell phone stunt to kill it."