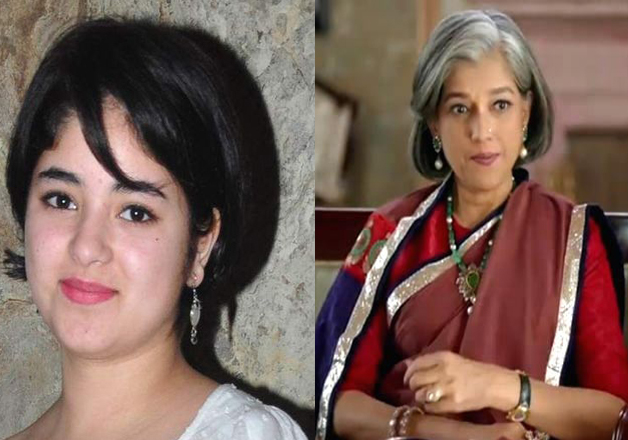 Actresses Ratna Pathak Shah, Bhumi Pednekar, Swara, Vidya and Zaira Wasim said that they were forced to face their fears through their roles in films and theatre.
The actors spoke at length on different incidents that made them acknowledge and battle their fears in their acting careers at a talk show of a channel.
Ratna, who has worked in numerous theatre projects and in films like Mandi, Mirch Masala, Khoobsurat and Lipstick Under My Burkha, said that it wasn't a film but a play that made her realise that her English wasn't as good as it should have been, even when she studied in an English medium school. 
"It was not films, but a play I did called 'Don Juan in Hell' in 1984 and it's by Shaw and the language therefore is George Bernard Shaw. I didn't speak English well and I couldn't hear myself. I said 'V' instead of 'W' and 'W' instead of 'V'. I didn't know where is 'the' used where is 'a' used and where is 'an' used. And I went to an English medium school. I thought my English was just fine," Ratna said.
"Then somebody recorded a show and I heard that and then I said oh my God this is what they've been telling me. So, that was my first step towards figuring out how to act, how to speak. And how to make sense while you speak so the words sounds like your own words and not like dialogues," she added.
Bhumi, on the other hand, started respecting "what a mother's job is" through her films. 
"I think my respect for my mother just went like ten folds because I was the kind of kid who would literally walk out in jeans and walk ahead. And I am not proud of it but through my films I've changed tremendously as a person," Bhumi said.
"I've become extremely responsible like just preparing for those films doing jhadu, bartan, cooking everything," she added. 
Swara talking about her challenging role said, "...I think I was also going through a break up so it was very odd time for me to play a character that had so much of love." 
Vidya also talked about her fear. She said, "I finally think I can, thanks to Tumhari Sulu because I have done comedies before, but I was not the one with the lines. I've enjoyed this process so much, it's one of the happiest experiences for me as an actor," she said.
Zaira Wasim, who made her acting debut with the biographical sports drama film Dangal and was last seen in Secret Superstar, said her weakness as well as her strength is getting convinced about a project.
"I discovered my weakness and my strength is conviction. If I am not convinced about something I am not gonna do it and if I am, I am going to do my best," she said. 
(With IANS Inputs)