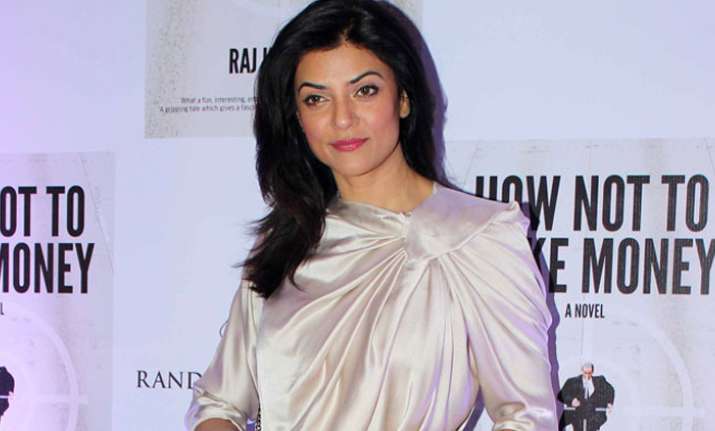 Former Miss Universe and fitness freak Sushmita Sen, who was last seen in 2010 film No Problem, says that she is ready to stage a comeback and has been looking for scripts for the past one and a half years.
Sushmita, along with younger daughter Alisah, was present at the Rouble Nagi Art Foundation's Republic Day celebration with kids. Asked when could the fans expect her return, Sushmita said: "I have been looking at scripts again for the past one and a half year. "I think I am ready to commit six months of my life to a film. But, just because I am ready, doesn't mean the perfect script is ready for me."
The 1994 Miss Universe also revealed that her greatest ambition was not to become a star but to remain connected with people. "Like I have always said, I will find a way to stay connected with you people. My greatest ambition wasn't to become a movie star but it was to stay connected with people. 
"I am very blessed that God gave me that opportunity to become an actor,..." Sushmita had earlier on Twitter shared her disappointment over the news of a school bus attacked by Padmaavat protesters in Haryana's Gurugram some days back.
When asked for a comment on the same issue, she said: "I have already said what I wanted to say about it on Twitter. Obviously I am very upset but I think we could talk about something productive today. Like these kids, who are our hope. To be able to express yourself and adding colour to life is the way of doing it." Her tweet shared on Thursday, read: "Attacking a school bus with children in it (as young as four-years-old) is an act of pure evil. Shame on these coward monsters. Serious action must be taken...THIS CANNOT HAPPEN. #keepchildrensafe #delhi"
Attacking a school bus with children in it (as young as 4 years old) is an act of pure evil. Shame on these coward monsters. Serious action must be taken...THIS CANNOT HAPPEN. #keepchildrensafe #delhi pic.twitter.com/XhU519N8Mz

— sushmita sen (@thesushmitasen) January 25, 2018
(With IANS inputs)
Keep watching our Facebook page for all updates