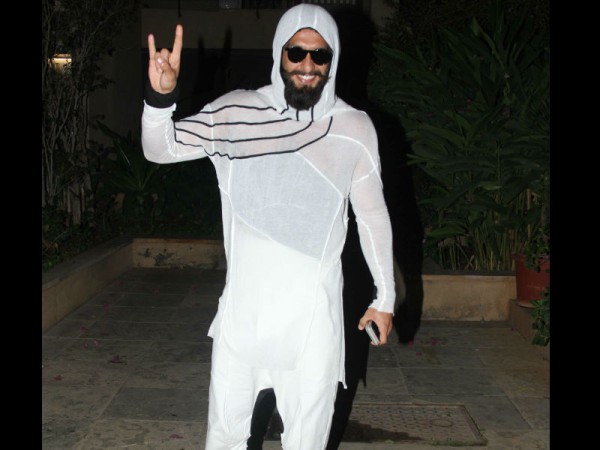 Actor Ranveer Singh is widely known for his upbeat humour and uncanny fashion sense. Recently, the actor wore an interesting outfit to Shahid Kapoor's pre-birthday party which caught everyone's attention-all for the weird reasons.
Keeping it stylish in his own eccentric manner, the "Befikre" actor was seen wearing an onesie-hoodie outfit. And boy oh boy, the pics went viral in a jiffy and Twitter simply exploded.
The Twitteratis didn't spare the 31-year-old actor at all and said a lot about the actor's unusual attire, comparing him to sperms, condoms and much more.
Have a look at some really funny tweets.
#RanveerSingh does look like a sperm cell #onesie pic.twitter.com/TzNdo5McmL

— Naufal Khan (@naufalkhan) February 20, 2017
#RanveerSingh pic.twitter.com/NIJPBPNFxF

— Manali Gharat ✍✍✍✍ (@ManaliGharat) February 20, 2017
When you weren't allowed to become Casper for fancy dress in school, you end up doing this when you grow up.#RanveerSingh #FriendlyGhost pic.twitter.com/xR9bWxuKOC

— Yogendra Lalwani (@yogendralalwani) February 21, 2017
Someone please tell #RanveerSingh to stop following Lady Gaga.

— Corn Flakes (@ankittalukdar) February 20, 2017
And NASA spending lots of Billion Money to find out existence of #Aliens whereas one #Alien spotted at #Mumbai partying #RanveerSingh pic.twitter.com/qOWI9Px0eJ

— अभिषैक (@Abhishek_57) February 20, 2017
Mom- Apne aap ko aache se cover karna bahar thand bahut hai .
Ranveer singh- * Takes table cloth * okay mom pic.twitter.com/ks6wtgGitA

— Fauxy Hunटरर ♂ 🥳 (@nickhunterr) February 20, 2017