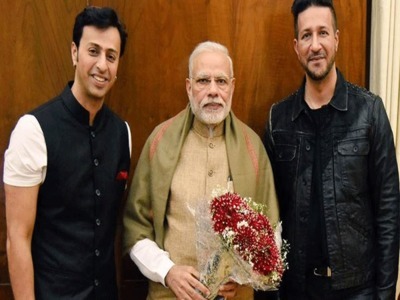 Prime Minister Narendra Modi has praised composer duo Salim-Sulaiman Merchant for composing a patriotic song titled "Mera desh hi dharam" on the occasion of Indias 71st Independence Day. The song is a dedication to the Indian Armed Forces. The lyrics of the song has been written by Salim's close friend Sandeep Srivastava. The music director revealed that the feeling towards the nation was enough to make the song.
Modi on Tuesday tweeted: "Lovely rendition Salim Merchant bhai and Sulaiman Bhai. You convey a very strong message through the video 'Mera desh hi dharam'."
Lovely rendition @salim_merchant Bhai and @Sulaiman Bhai. You convey a very strong message through the video. #MeraDeshHiDharam https://t.co/rEOjY9C2i2

— Narendra Modi (@narendramodi) August 15, 2017
On Monday, when the song was published on YouTube, Salim had tweeted: "I am an Indian. 'Mera desh hi dharam'. Thank you Narendra Modi ji for the inception of this song." 
The lyrics of the track were penned by Sandeep Srivastava. Mera Desh Hi Dharam has some wonderful lyrics that will reignite the feeling of patriotism in you. This is not the first time as many songs have been composed to celebrate the feeling of patriotism. Bollywood has delivered many films on the patriotic theme. From Border to Rang De Basanti, the terrific stories, commendable acting and some beautiful songs were appreciated by the audience.
On the occasion of India's 71st Independence Day, many Bollywood celebs like Shah Rukh Khan, Amitabh Bachchan and Akshay Kumar have given Independence Day wishes to their fans.
For more entertainment updates, follow our Facebook page