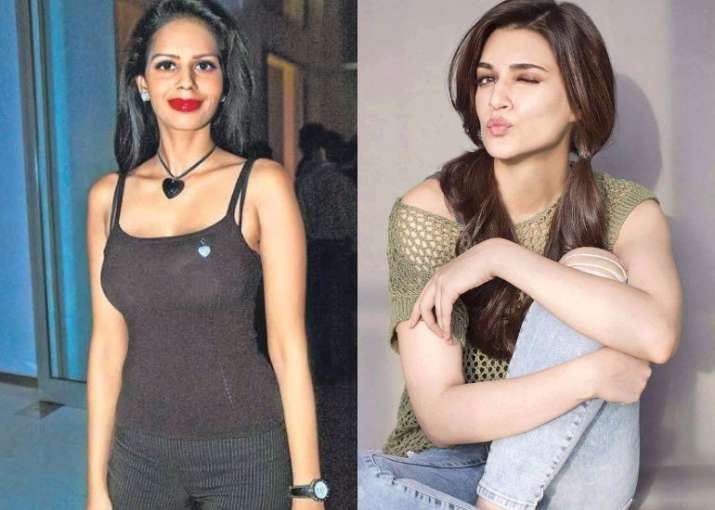 Body shaming has been a hot topic of discussion for a while now. There have been incidences when random social media users slam the actresses for their looks or dresses. If you go through the comment section of the pictures posted by the actresses, you'll see a string of hate comments. Body shaming seems to be the 'Brahmaastra' for the low lives who can't be more jealous of other people. A similar case happened yet again, but this time the body shamer belongs to the film fraternity instead. Bhairavi Goswami, the actress who played a small role in the movie Hate Story resorts to body shame Kriti Sanon over her physique. 
What happened actually was, a week ago, Kriti Sanon posted a video of herself dancing on the song 'Hawa Hawa' from Mubarakan, in a thigh-slit gown. KRK retweeted the video with the caption, "Ye Dekho Kiriti Bechari, Raabta Ke flop Hone Ke Baad, mentally disturb Ho Gayee hai!". KRK is known to slam every second Bollywood celebrity on his Twitter account. Among his followers, was a so-called Bollywood actress who decided to add to the filth of an already misogynist post. She commented on the video with a crass comment highlighting her body type. 
She wrote: 
"She is really behaving like a deranged woman. How did she become an actress? No headlight, no bumper. Even college students look better"
she is really behaving like a deranged woman. How did she become an actress. No headlight, no bumper😳. Even college students look better https://t.co/SAPEuv80sc

— Bhairavi Goswami (@bhairavigoswami) July 22, 2017
Infuriated Twitterati takes a dig on Bhairavi by asking her who she is, in the comments. 
Wo Sab choro. Tum kon ho behn?

— Najeeb Habib (@NajeebHabib1) July 22, 2017
In no time, Bhairavi was heavily criticised on Twitter for her tasteless remarks. 
Wow! Slow clap for you. I knew you are not a good actor but damm you are not even a good human. May u get well soon.

— Puneet Prakash (@nirdeshak) July 22, 2017
That was brutal. Why would you indulge in #bodyshaming?

— Leeds (@theferrao) July 23, 2017
It's a popular culture on social media to slam a person and muster a minute or two of fame. Bhairavi Goswami seems to be trying her hands on the similar propaganda. We've been blaming men to shame and stereotype women, but sadly there are women like Ms. Goswami who doesn't think once before talking about a woman's body on a public platform. 
Also Read: Happy Birthday Kriti Sanon: Here are some breathtaking pictures of the actress from Instagram
For more entertainment updates, follow our Facebook page