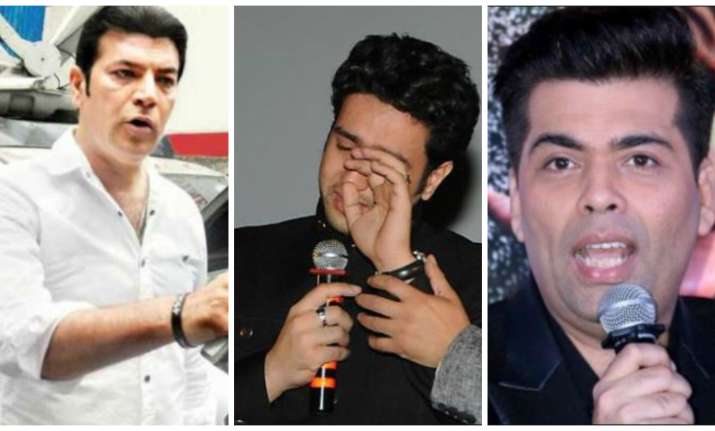 Kangana Ranaut's explosive interview in Aap Ki Adalat took Bollywood by storm with many from the film fraternity reacting on her allegations. She single-handedly took on Karan Johar, Hrithik Roshan, Adhyayan Suman, Aditya Pancholi and yes, Maharashtra Women Commission as well. From spilling beans about her affair with Hrithik Roshan which later turned into ugly public feud to taking a jibe at Adhyayan Suman's allegation of practicing witchcraft, she didn't spare anyone. She also spurted out how Aditya Pancholi kept her under house arrest. So far, all of them have reacted to Kangana's revelations.While Karan Johar's cryptic tweet was said to be aimed at Kangana Ranaut, Hrithik Roshan's ex-wife Sussane Khan defended him and called him a 'good soul'. Also, Aditya Pancholi threatened to sue Kangana for maligning his public image. Amid all these blame game, Maharastra Women Commission has also refuted Kangana's allegation that the organisation is biased and favour powerful and rich.
Here's a list of reactions on Kangana's explosive interview on Aap Ki Adalat
Karan Johar's cryptic reaction
The ace filmmaker was the first celebrity to react on the viral interview. Though he didn't target her directly but in a cryptic tweet termed her ''ungrateful". He took to his official Twitter page to write "Ungrateful people need a reality check!!!!!!!" soon after the Aap Ki Adalat episode. Though, close sources of Karan said that the tweet was related to something in his personal life but no one is eager to buy this reason.
Ungrateful people need a reality check!!!!!!!!

— Karan Johar (@karanjohar) September 2, 2017
Sussanne Khan's post
Hrithik Roshan has kept mum on the controversy despite the fact that the major portion of Kangana's revelations was aimed at him. However, his ex-wife Sussanne Khan who has always stood by his side shared a picture of them together with the caption,"There is no allegation or a sad evil plot that can have the weight to triumph over a good soul." She defended Hrithik by calling him a 'good soul' but people started questioning that 'if the actor was such a ''good soul'' then why did you leave him?'.
Sona Mohapatra lashes out at Kangana
Singer Sona Mohapatra who is also vocal and has earned the tag of being straight forward, wrote an open letter to Kangana after the ongoing turmoil. She wrote on her Facebook page that the current scenario triggered by Kangana's revelations is a part of professional PR campaign before her film release.
She wrote, "Dear Kangana, I have always cheered loudly, in private & in public for you. Long, long before you turned queen et all but your current run across the airwaves regurgitating personal details of your love life over & over again, washing dirty linen in public & more so as part of a professional PR campaign before your film release is in bad taste. No two ways about it. Also, it does a big dis-service to the cause of feminism & fair play. Wish you well & wish you would rise above this muck & make your point through actions & your work. Your success doesn't need this tabloid trail. Your well thought out & superbly worded open letters of the past, fearless interviews addressing larger issues, taking a stand, taking legal recourse are welcome. The current 'circus', not.
This is just another opinion in the public domain from one working woman to another, from the heart & on an impulse. There is no PR machinery or team guiding me here.
I do believe that there are plenty of feminists in the opposite gender. Men who cheer the cause of outspoken, feisty, fierce & hard working women like you & me. We don't 'need' them as such but let's not forget them & also the thousands of amazing women who fight the good fight on a daily basis with dignity .
Life might not have been easy but you are in a great place now. More so to influence positive change. That is worthy of a daily celebration.
Also, today is Onam, a thanksgiving festival in the South. The mythology surrounding the festival is significant - it emphasizes the Hindu belief in the cyclical nature of events, that no individual, no ruler and nothing lasts forever, except the virtues and self-understanding that overcomes all sorrow.
So, Happy Onam.
Big love & healing to you.
(P.S To the so called 'journos' hankering after this masala & asking those thaka hua questions.)
Rangoli Chandel: While Kangana did not respond to the letter, her sister Rangoli Chandel hit back at the Ambarsariya singer, calling her a 'black spot on womanhood'. Rangoli took to Twitter to vent. She wrote: "people like you try and milk publicity from everything please take several seats, your two minutes of fame are up. @sonamohapatra."
people like you try and milk publicity from everything please take several seats, your two minutes of fame are up. @sonamohapatra

— Rangoli Chandel (@Rangoli_A) September 6, 2017
What Aditya Pancholi said
Kangana in the interview also opened up on how she was lured by actor Aditya Pancholi who later started stalking and tracking her. The actor responding to the blame said that he will take legal action against the 'Queen' star. In an interview to Bollywoodlife, he said, "She is a mad girl, what to do, did you see the interview? Didn't you feel like some mad person was talking? Who talks like that? We have been in the industry for so long, nobody has ever spoken anything so evil about anyone. What should I say, she's a mad girl. If you throw stones in mud, it will only spoil your clothes". He further said,"I am going to take a legal action against her. She is lying that's why I am taking legal action against her. I don't know about other people, but as far as my story goes and what she has spoken about me, she has said all lies. She has to prove that I have done that. My family is very much affected by it. My wife and I will take legal action against her,"
"I am just hurt, and in all this controversy. I am so worried about as she is such a good actress. God has given her so much, she should be grateful about it. She should be now more humble and nice to everyone. According to her, the entire world is villain and only she is nice," said Pancholi.
Taslima Nasreen loved it
The famous autor Taslima Nasreen has backed Kangana in her tweet. The author who has been opposed by fundamentalists for her feminists views wrote on micro-blogging site, "Saw kangana's aap ki adalat. loved it. then I read her emails. crazy4 hrithik. I get confused. but I don't think she is suffering from asperger's,"
saw kangana's aap ki adalat.loved it.then I read her emails.crazy4 hrithik.I get confused.but I don't think she is suffering from asperger's

— taslima nasreen (@taslimanasreen) September 4, 2017
Adhyayan Suman reacts
Kangana and Adhyayan who romanced each other in 2009 flick Raaz: The Mystery Continues have now turned hostile. Adhyayan came forward after Hrithik-Kangana fiasco and accused her of practicing witchcraft and black magic. When Kangana was asked about this on Aap Ki Adalat show, she simply laughed it off saying he was 95 kgs and I was 49 kgs, how could I hit him? Now, Adhyayan has reacted on allegations saying that he is totally unaware about the interview. Talking to Indian Express, he said,"Sorry haven't heard about the interview …been too caught up with the more important things in life… and I am not interested in knowing about it either."
"It's ok for people to have opinions and at this time I don't have one. Will talk soon. Need to get back for my shot.''
Simran writer Apurva Asrani says
Who doesn't know about tug-of-war between lead actress Kangana and writer Apurva Asrani for the writer credit of Simran. The actress has been given the credit of additional story, screenplay and dialogue. Kangana in Aap Ki Adalat episode said that Apurva Asrani was mum when credits were being finalised so now why he is raising hue and cry over it. Responding to Kangana, the writer of Citylights has now written a lengthy post on Facebook. "I'm frigging tired of this wave of pseudo-feminism that has swept our timelines and I want to call it out once & for all. Because women who transgress the limits of decency & fair play by saying 'men did it, so why can't we?' only compound the problem. Though, he didn't mention Kangana's name anywhere but its not tough to guess that the post was aimed at whom. He wrote,''As a gay man, I have suffered patriarchy all my life. But today, I also suffer the pseudo feminists, who cheer gleefully when a woman commits a crime.The others, like public watching a matador and a raging bull, don't care about right or wrong, they only applaud when they see blood.We have become a society that celebrates a woman for being a 'rule breaker', but shames a man for the same. You forget that this breaking of rules, irrespective of gender, has a far deeper effect. It tramples on the lives of innocent people–those that you carelessly write off a collateral damage. I'm not ok with that.I have seen many prolific women journalists celebrate these so called 'rule breakers' and I want to ask them this question, 'are you investigating thoroughly? Are you asking the difficult questions?? Or are you cutting someone slack because she's also a woman? Because she is ready to do battle where you can't, will you turn a blind eye to where she could actually be wrong?? Shouldn't you be holding both sexes equally accountable??'
I'm not ok with women settling scores with men by falsely claiming they molested them. I'm not ok with women who can't handle being broken up with and then manipulate the world to shame the man. And lastly, I'm not with film makers getting bullied and writers getting fucked over just because you are an outspoken woman. Injustice is injustice. Period."
Maharashtra Women Commission hits back
The latest one to react on the row is Maharashtra Women Commission whom Kangana termed as biased and cheaters. During her appearance in Aap Ki Adalat, Kangana said that when Hrithik threatened to make all personal images and videos viral, then Rangoon director Vishal Bhardwaj suggested her to approach women commission. When her sister Rangoli called Gurmeet Chadha, the Mumbai head, at first the lady got excited but later on refused to help her. Kangana brutally tarnished the commission's image by calling them "dhongi".
Now, Maharashtra Women Commission Chief, Vijaya Rahatkar in a series of tweet said, ''Deeply disturbed by Ms.Kangana Ranaut's irresponsible statement where she has made grave allegations against the Womens Commission. Neither has Ms.Kangana Ranaut ever approached Womens Commission nor is Gurmeet Chadda associated with MSCW in any way. MSCW is fully committed to the cause of women in distress. Unfortunate that Ms.Ranaut has chosen to project us wrongly.
Deeply disturbed by Ms.Kangana Ranaut's irresponsible statement where she has made grave allegations against the Womens Commission. 1/3 https://t.co/LPAoHPbQAv

— Vijaya Rahatkar (@VijayaRahatkar) September 3, 2017
Neither has Ms.Kangana Ranaut ever approached Womens Commission nor is Gurmeet Chadda associated with MSCW in any way. @RajatSharmaLive 2/3

— Vijaya Rahatkar (@VijayaRahatkar) September 3, 2017
MSCW is fully committed to the cause of women in distress. Unfortunate that Ms.Ranaut has chosen to project us wrongly. @RajatSharmaLive 3/3

— Vijaya Rahatkar (@VijayaRahatkar) September 3, 2017
However, the actress's sister Rangoli came forward and tweeted, "Dear mam u r a year late to dis Gurmeet is the VP f Mahila congres and she said she's also relatd to woman comission. After her meeting with Mr. Rakesh Roshan she told me woman comission can't help us. What are we suppose to do in this situation city is flooded with Gurmeet Chadda's hoarding as a great saviour of woman.''
Dear mam u r a year late to dis Gurmeet is the VP f Mahila congres and she said she's also relatd to woman comission @VijayaRahatkar https://t.co/VR2iuOgDHJ

— Rangoli Chandel (@Rangoli_A) September 4, 2017
After her meeting with Mr. Rakesh Roshan she told me woman comission can't help us @VijayaRahatkar

— Rangoli Chandel (@Rangoli_A) September 4, 2017
What are we suppose to do in this situation city is flooded with Gurmeet Chadda's hoarding as a great saviour of woman @VijayaRahatkar

— Rangoli Chandel (@Rangoli_A) September 4, 2017
Wt are we supos to do if she tells us woman comision can't help us she's a big name ws givn to us by some influential ppl. @VijayaRahatkar

— Rangoli Chandel (@Rangoli_A) September 4, 2017