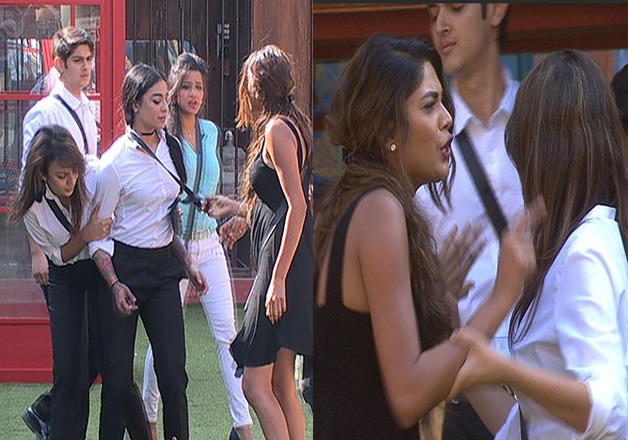 The high on drama TV reality show 'Bigg Boss' has always been in limelight mostly for bad reasons. But, in the previous seasons we had some moments or love stories. This time it's just gruelling, controversy and even physical tussle.
It's just been few days since Swami Om made his unceremonious exit from the show, now the two ladies inside the house has created havoc. On the second day of the luxury budget task 'Bigg Boss ka Call centre' Bani and Lopa engaged in a cat fight, and it was not just verbal.
On the first day of the task Bani became the angry customer and started saying thing to provoke customer care executive Lopa. But, the latter managed to maintain her cool and ended the task.
On the second day, 'Bigg Boss' reversed the roles and now it was Bani's turn to hear Lopa's words. In order to win the task Lopa, in tonight episode, instigated Bani by saying that she used the name of her mother to gain sympathy on the show. This thing didn't go well with Bani, and she banged the phone.
After that, situation took a nasty turn when Bani chocked Lopa's waist and rest of the housemates had to intervene to stop them.
The physical fight was not the first time on this season. Previously, Rohan also lost his cool over Swami Om and slapped him. Thus, he was severely punished by 'Bigg Boss'.
On the other hand during a captaincy task, Swami Om crossed every level of disgust when he peed on Rohan and Bani to become the captain.
Who can forget, for the first time, in the history of 'Bigg Boss', Salman Khan himself evicted a contestant and that was Priyanka Jagga, who made derogatory comments on Manu's deceased mother.
However, in the previous seasons there was hullabaloo but nothing of that sort happened. In the seventh season of the show, Kushal Tondon hit VJ Andy and was then out of the show but that was the only physical fight in the entire episode. On the other hand, this was the second time contestants got physical in 'Bigg Boss 10'.
Now, it is still to be known that how will 'Bigg Boss' punish Lopa and Bani.