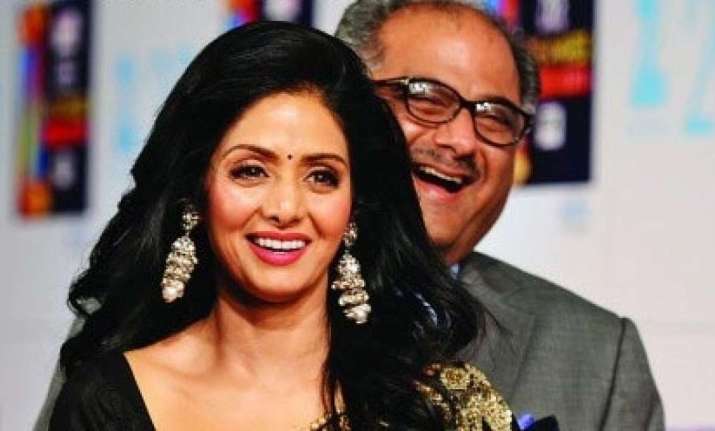 Veteran actress Sridevi bagged National Award for her film MOM posthumously. And her husband Boney Kapoor has expressed his feeling post her award announcement. 
Boney in his statement said that he don't know whether to celebrate it or not. He was quoted saying, ''Today, we, as a family, do not know whether we should celebrate or not. We don't know if we should feel elated, laugh with joy, or cry while remembering her. The National Award has come posthumously, but it's something we cherish while remembering her for the artiste that she was. She was a perfectionist, and that was evident in all the 300-plus films she did. It's time to celebrate her achievements. Her legacy will always live on.''
Yesterday also Sridevi's husband Boney and his daughter Khushi Kapoor, Janhvi Kapoor released an official statement expressing their gratitude for the MOM actress.
The statement read as, ''We are overjoyed to know that the Jury has conferred the Best Actor Award to Sridevi for her performance in 'MOM'. It's a very special moment for all of us. She was always a perfectionist and it showed in all the 300 plus films she did. She was not just a Super Actor but a Super Wife and a Super Mom. "Its time to celebrate her life and her achievements. She is not with us today but her legacy will always live on. We thank the Government of India, the Hon'ble Jury Members for this honour. We also take this opportunity to thank all our friends, her fans who have been sending us congratulatory messages."
April 13, 2018
Announcing Sridevi's name, feature film jury head Shekhar Kapur said the actor was the most deserving candidate. Sridevi, whose filmography spanned across 50 years and in 300 films in languages such as Tamil, Telugu and Hindi, was recognised for her role of an angry mother seeking justice for her daughter in rape revenge drama, Mom. Her death, at the age of 54 in February this year, had shocked the country. Kapur had worked with Sridevi in Mr India. "It was not because of the relationship we shared but because she was the most deserving candidate for her portrayal in 'Mom'," Kapur said.