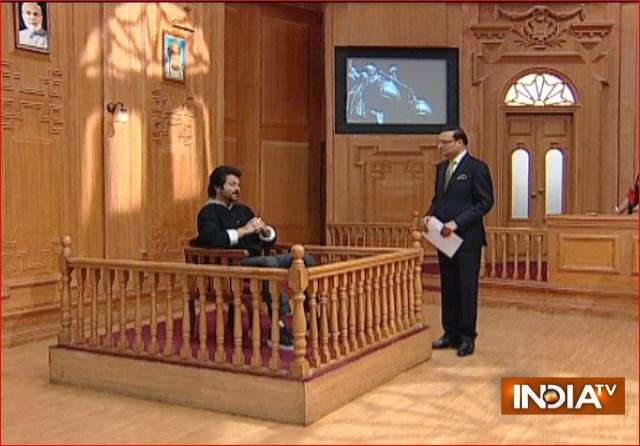 Film actor Anil Kapoor has revealed how he once thought of taking a long break from acting, but was advised by megastar Amitabh Bachchan "never to commit such a mistake." Appearing in Rajat Sharma's show Aap Ki Adalat, to be telecast on India TV tonight, the 60-year-old actor said: "I always look up to Dilip Kumar, Amitabh Bachchan, Naseeruddin Shah, Kamal Hassan, who are great actors. Amit ji took a five-year break after doing 'Khuda Gawaah'. He had gone to New York to live a normal life. I had gone there while shooting for 'Armaan'. I met and told him, I too was tired after working for 25 years in films, and wanted a break. 
"Amit ji told me 'never commit such a mistake in life. Never take a break' (from films). I went back and immediately signed two new films. I have never taken a break in my 38-year-long career."
Asked about the secret of his "ageless" look, Kapoor said: "I am now 60, and shall be 61 on December 24 this year. My secret: be happy, be positive and you will remain young." He took a humorous swipe at yoga guru Swami Ramdev saying, "I will not share the 'jadi-booti' (herbs) of my agelessness, I want to earn and create a Rs 20,000 cr. empire like him by selling these herbs."
Anil Kapoor said, "one of the greatest moments of my life was to receive the coveted Oscar (for 'Slumdog Millionaire") on stage. All actors or directors across the world nurse a dream to receive an Oscar. I had a small role in the film. This feeling of joy shall remain in my heart till the end."
Kapoor also said, "Receiving the National Award for 'Pukaar' was also a great moment for me. The film was quite underrated and it did not fare well, because at that time Hrithik Roshan's film 'Kaho Na Pyar Hai' had become a big hit. When I got the National Award, I felt redeemed and I realized that the fruits of labour are indeed sweet."
Asked how he felt when his daughter Sonam won the National Award (for 'Neerja'), Anil Kapoor replied: "For me, that moment gave me greater joy than the Oscar moment. When I saw my daughter walking up the stage and receive the award from President Pranab Mukherjee, it was a blissful moment for me."
Kapoor disclosed how he had a simple marriage with his wife Sunita, attended by only 12 to 13 guests. "I had told my girlfriend Sunita that I would marry her only after my career took off. The moment Subhash Ghai signed me up for 'Meri Jung', I decided to take the plunge and said, I would marry her tomorrow. She hastily arranged for mehandi that night within three hours and the wedding the next day was attended by 12 to 13 guests. 
"Normally people spend hundreds and thousands of crores of rupees on weddings, but often their marriages end (in failure). So, our hearts met, marriages are made in heaven, so Meri Jung was the reason behind my marriage."
Anil Kapoor revealed how he once wore suits meant for actor Sanjay Dutt for the film 'Rocky', and went to  weddings. "Those days, I badly needed nice suits to attend weddings. I went to costume designer Kachin's, and asked him for some suits. He found a few suits meant for Sanjay Dutt for the film 'Rocky', and gave them to me for wedding. Those days, Sanjay Dutt and I had almost similar bodies, though he has quite improved nowadays. I did not take those suits on hire, he gave it to me to wear for free."
The actor described how Jackie Shroff once slapped him hard 20 to 25 times during a shoot. "The shot later turned out to be perfect." He also revealed how he tried to "impress" co-star Madhuri Dixit during a shoot for the film 'Beta' by tying himself up to a big merry-go-round ring. "Yes, I was trying to impress Madhuri. She was not married at that time."
 Kapoor said: "Doing comedy roles is a very serious business. In films like Mr India, Chameli Ki Shaadi, No Entry, Welcome, and now Mubarakaan, people may think doing entertaining roles is easy. Our director Anees Bazmee says, when I am in a foul mood, I write good comedy scenes. So, you have to work hard for comedy roles. You can do romantic scenes with anybody, you can do drama, action, anything, using low-angle camera, coloured lights, nice costumes, shooting in Switzerland, New York, but these things won't work out in comedy roles. In comedy, you have to work hard. Either you know (how to do it), or you don't. "