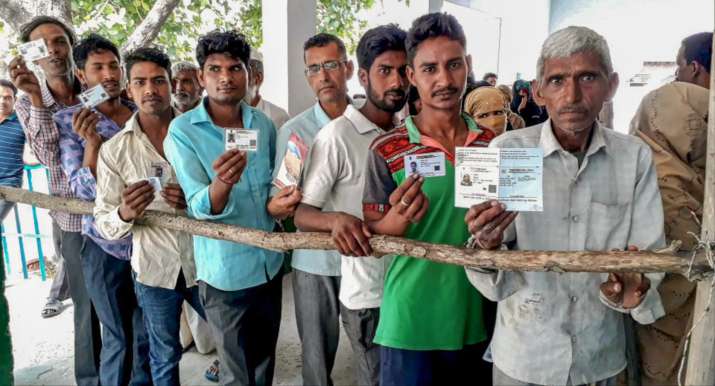 Kairana Lok Sabha Bypoll Results 2018: Uttar Pradesh's ruling BJP today faced a major electoral upset as the joint opposition candidate, RLD's Tabassum Hasan, defeated late BJP's MP Hukum Singh's daughter Mriganka Singh. 
After 20 rounds of counting, Tabassum Hasan polled 4,01,464 votes, while her nearest rival, BJP's Mriganka Singh, got 3,52,173 votes, the election office here said.
ALSO READ: Lok Sabha Bypoll Results 2018 LIVE Updates: BJP loses prestige battle in its bastion Kairana; gets partial victory in Maharashtra
The Kairana seat had fallen vacant following the death of Mriganka Singh's father, BJP MP Hukum Singh. Rashtriya Lok Dal's Tabassum Hasan, supported by the Congress, Samajwadi Party and the Bahujan Samaj Party, established an early lead over Mriganka Singh right from the beginning to establish an almost invincible lead by noon. 
In Noorpur, which was also held by the BJP, SP candidate Naeemul Hasan cruised ahead of his nearest BJP rival Avni Singh. 
Naeemul Hasan was supported by the Congress, the Samajwadi Party, the Bahujan Samaj Party and the AAP. 
Counting of votes for the Kairana Lok Sabha and Noorpur Assembly by-elections began this morning amid tight security arrangements. 
Polling for the high-stakes by-elections to the two constituencies was held on Monday. 
In Kairana, repolling was held at 73 polling stations on Wednesday.
In the recent by-elections held in the prestigious Gorakhpur and Phulpur Lok Sabha constituencies, the ruling BJP had lost to the SP.
 
While Gorakhpur was represented by Uttar Pradesh Chief Minister Yogi Adtiyanath, Phulpur was held by his deputy Keshav Prasad Maurya.
 
The by-elections were held as they vacated their seats on getting elected to the UP Legislative Council.