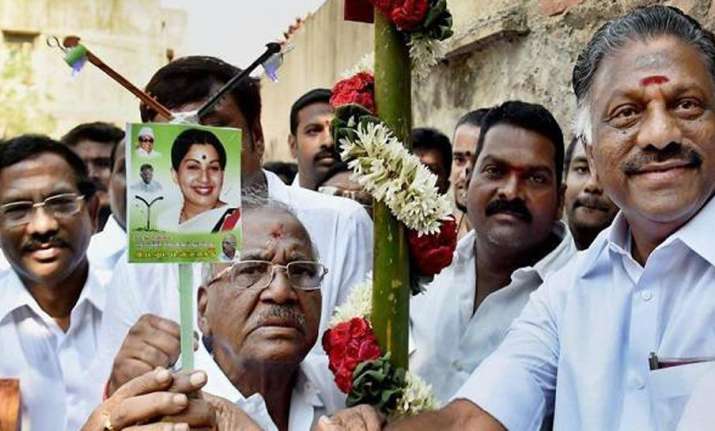 The high-decibel campaign for the December 21 by-election for the Radhakrishnan Nagar assembly constituency in Tamil Nadu came to an end here on Tuesday evening.
In the fray are 59 candidates vying for around 2.06 lakh voters' favour who will be polling in over 200 booths in the constituency.
The major contenders are AIADMK's E. Madhusudhanan, DMK's N. Marudhu Ganesh, sidelined AIADMK leader T.T.V. Dinakaran, contesting as an Independent, and Bharatiya Janata Party (BJP)'s K. Nagarajan.
Elaborate security arrangements have been made for the smooth conduct of the poll.
The by-poll was necessitated following the death of AIADMK leader and Chief Minister J. Jayalalithaa on December 5, 2016, who represented the Radhakrishnan Nagar seat.
Although the poll was first scheduled to be held in April this year, it was cancelled due to complaints of large-scale voter bribing by a candidate.
The poll is considered an acid test for the ruling AIADMK as it underwent a split and patch-up, with Deputy Chief Minister O. Panneerselvam going out of the party and then rejoining it.
In the meantime, Dinakaran, who was the party's Deputy General Secretary, and his jailed aunt V.K. Sasikala were sidelined.
The run-up to the by-poll saw several twists and turns, including the rejection of actor Vishal Krishna's nomination papers and change of controversial Returning Officer K. Velusamy.
The by-poll run-up also saw parties trading charges of large-scale bribing of voters, and flying squads seized around Rs 30 lakh from several people during the campaign.
The counting of votes will be taken up on December 24.