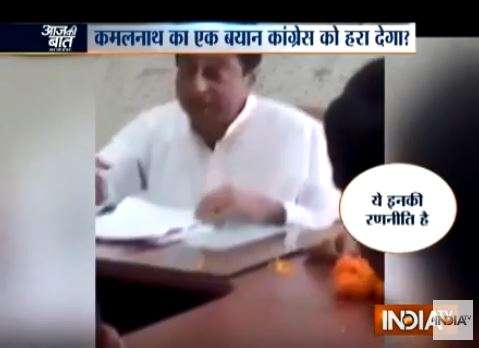 A video of Madhya Pradesh Congress president Kamal Nath has gone viral on social media which has landed the veteran leader and his party in trouble.
In the video, Kamal Nath is seen holding meeting with some Muslims in a closed room. He is heard telling the Muslims that there was a need for them to beware of the RSS.
In the video, Kamal Nath asks Muslims to be quiet till the completion of assembly elections, adding "RSS will be sorted out after the polls".
The BJP slammed the Congress after this video surfaced and accused the party of following the "divide and rule" policy. 
The Bharatiya Janata Party (BJP) ruled Madhya Pradesh is all set to go for polling on 28 November to elect members of the 230 constituencies.   
Votes will be counted on Dec 11.
Watch: Video of state Congress president Kamal Nath warning Muslims against RSS goes viral