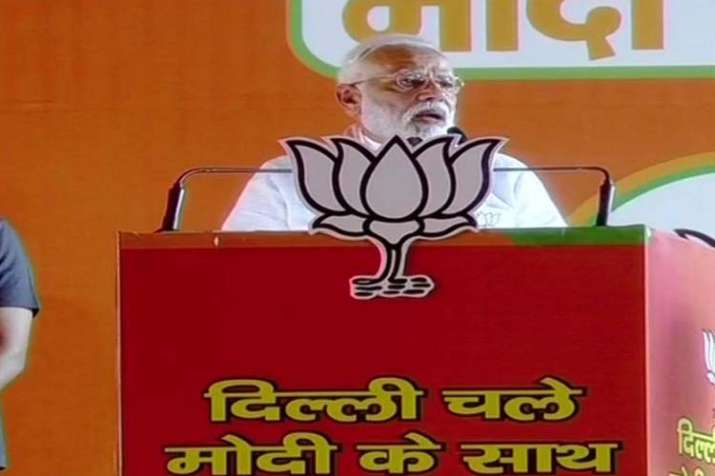 Taking everything that comes his way as a 'blessing' has become a new way for Prime Minister Narendra Modi to ward off attacks from the Opposition leaders.
For PM Modi, even sweatmeat made of mud and mortar was a blessing, leave alone anything of a less degree. And when we talk of that, we talk of a slap.
West Bengal Chief Minister Mamata Banerjee had offered to give Modi a 'tight slap of democracy', quoted as saying by new agency ANI.
The slap was metaphoric; alluding to May 23 -- the day of result/mandate of the ongoing Lok Sabha polls. But PM Modi takes every literally, and did we say, as a blessing.
At a rally in West Bengal's Purulia on Thursday, PM Modi said he would take the not-so-figurative slap from his 'Mamata didi' as a blessing.
"Mujhe bataaya gaya hai ki yahaan [Mamata] didi ne kaha hai ki woh Modi ko thapad maarna chahti hain. Mamata didi main toh aapko didi kahta hoon, aapka aadar karta hoon; aapka thappad bhi mere liye aashirwaad ban jaayega. Woh bhi khaa loonga," PM Modi said.
Mamata Banerjee had given the remark in connection with PM Modi dubbing her Trinamool Congress (TMC) as 'Tolabaaz' party.
In common paralance, extortionists are referred to as 'tolabaaz'.
PM Modi had, in a rally in the run up to the Lok Sabha polls, said, "West Bengal, under Mamata Banerjee, was known for 'triple T -- Trinamool, Tolabaazi, Tax'."
To this end, Mamata, while addressing a rally, said, "Money doesn't matter to me.That is why when [PM] Narendra Modi came to Bengal and accused my party of being Tolabaaz, I wanted to give him a tight slap of democracy."
This was the latest addition to the ever-growing list of barbs being exchanged between Mamata Banerjee and PM Modi.
The West Bengal chief minister had earlier said she would gift sweatmeat made of mud and mortar to PM Modi. The prime minister said it would be his 'saubhagya' to receive such a gift.
Mamata Banerjee had made this claim, in a televised interview, in response to PM Modi's declaration that she regularly sends him Bengali laddoo and two-three kurtas every year.
Prior to this, PM Modi fell on Mamata's wrong side when he claimed as many as 40 TMC MLAs were in contact with him -- leading to speculation of defection. TMC leader Derek O'Brien charged him with horse-trading.
HOW IT ALL BEGAN -- Allow us to refresh your memory:
Mamata Banerjee has played a crucial role in uniting the whole Opposition (read: 22 parties) against the Modi-led Central government. She even organised and emceed a grand mahagathbandhan rally at Kolkata parade ground in January, 2019.
On April 4, Mamata described PM Modi as "Hitler's uncle" and a day before she termed him as "expiry babu".
PM Modi is no less. He has given Mamata the title of 'speedbreaker didi', because, he says, development came to a screeching halt when she became the chief minister of West Bengal.
"Speedbreaker didi has lost her sleep after the reports that came in after the first and second phase of polling in the state," PM Modi said in another rally in West Bengal.
Most recently, PM Modi said he felt "pity" for Mamata Banerjee as the prime minister's post cannot be bought by money looted in Saradha and Narada scams.