Follow us on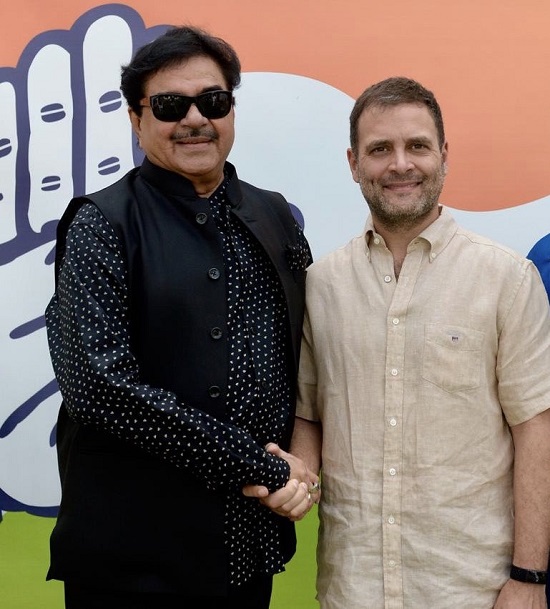 Shatrughan Sinha will be joining Congress on Navaratri and will contest election from Patna Sahib. After meeting with Congress President Rahul Gandhi, he said that Navratri is an auspicious time, so we will start the good work then only. 
Shatrughan, who has come together with Rahul Gandhi, has repeatedly said that he will contest polls from Patna Sahib Lok Sabha seat only.
When asked when will he join Congress party, he said that joining will happen soon probably during Navaratri. 
According to sources, for the purpose of discussing the seat, he met Rahul Gandhi at his residence.
Meanwhile, Bihar Congress in-charge Shakti Singh Gohil has told that Shatrughan Sinha has decided to join the Congress. He will work as star campaigner. But he did not say anything about Shatrughan Sinha's entry into Patna Sahib seat.
The BJP is contesting the Lok Sabha election in alliance with the Janata Dal-United and the Lok Janshakti Party in Bihar. On the other hand, the Congress is in alliance with the Rashtriya Janata Dal in the state that sends 40 members to the Lok Sabha.
The RJD was said to be keen on having Sinha as its candidate from Patna Sahib constituency. Sinha and RJD supremo Lalu Prasad share a cordial relation. But the Congress has always contested the Patna Sahib seat whenever it allied with the RJD in Bihar. So, the party wanted to field Sinha on its own symbol. This little tug-of-war apparently has caused delay in decision of Sinha joining the Congress.
BJP has fielded Union minister Ravi Shankar Prasad as the candidate from Patna Sahib seat.