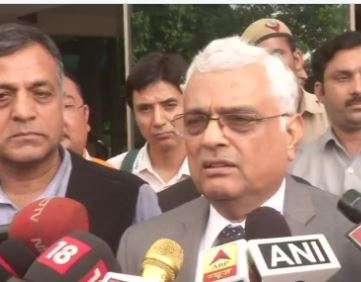 Lok Sabha elections 2019: Chief Election Commissioner OP Rawat on Monday said that some of the political parties have expressed concern over going back to the ballot system of voting. 
"Some of the parties said going back to the ballot is bad as it would bring back booth capturing," ANI quoted Rawat as saying.
After meeting all political parties, CEC said concerns related to EVMs and VVPATs were also "noted down".
Catch all the latest news about Lok Sabha elections 2019 HERE
"Some political parties have said that there are problems with EVMs and VVPATs. These things have been noted down by the Commission," he said and added, "All political parties were very positive and constructive in suggesting ways and means to further improve the integrity of elections." 
The Election Commission will take all the suggestions, examine them and whatever needs to be done, will be done to improve the delivery of polls, Rawat stressed.
Earlier in the day, the Commission had convened an all-party meeting. The agenda was to discuss preparations for the Lok Sabha elections 2019.
The general elections will take place in the months of April-May next year to constitute the 17th Lok Sabha.