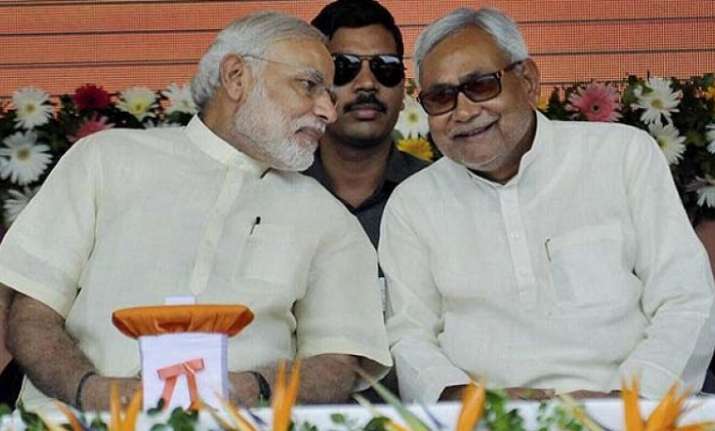 Ahead of the Lok Sabha elections, Nitish Kumar-led Janata Dal (United) or JD(U) has come out in clarification that their alliance with the Bharatiya Janata Party (BJP) is limited only to the state of Bihar. An ally of the saffron party, Nitish Kumar's JD(U) is planning expansion and is likely to contest the upcoming general elections in other states on its own. 
Speaking over the development, KC Tyagi, national general secretary of the Janata Dal (United) said, "The alliance is limited to Bihar only and not outside it. Hence the party is independent in all the other states and is committed to working for the propagation of its legacy of the socialist movement."
The national executive meeting of the JD(U) on Monday gave its nod for the creation of a three-member committee, comprising KC Tyagi, RCP Singh and Prashant Kishor, for holding preliminary talks with the heads of respective state units.
While JD(U) has announced the candidate for the lone Lok Sabha seat from Lakshadweep, the party will explore the option of contesting some of the seats in the Northeast, Jharkhand, Uttar Pradesh, Karnataka, Rajasthan and Chhattisgarh, Mr Tyagi said.
Prime Minister Narendra Modi and Bihar Chief Minister Nitish Kumar grabbed eyeballs on Sunday (March 3), when they shared the stage at a NDA rally for the first time in a decade. Both had come together last time at a rally in 2009 in Ludhiana in Punjab. 
With the Sankalp Rally in Patna, the prime minister officially kickstarted NDA's election campaign for the upcoming Lok Sabha polls, also the first show of strength in Bihar ruled by BJP in alliance with JD(U). 
Addressing his first political rally with friend-turned-foe-turned-friend Nitish Kumar, the Prime Minister Narendra Modi showered praises on the Bihar chief minister calling him "hard working and sophisticated". 
"There seems to be a contest among the opposition parties led by the Congress for hurling abuse at the Chowkidar. But the people of the country have made up their mind. They are going to punish these parties once again and teach them a few more lessons," Modi had said.