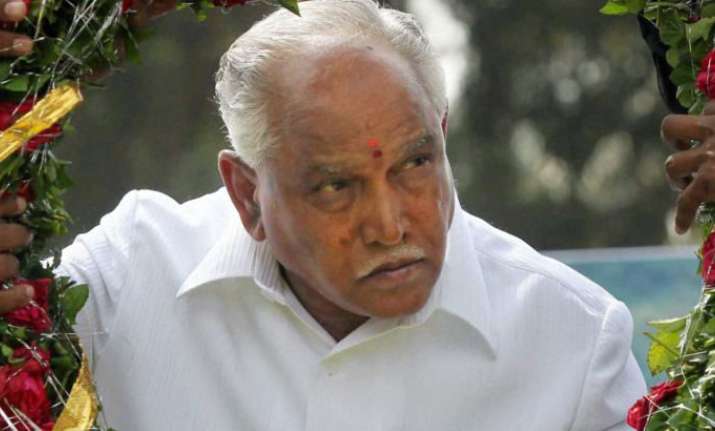 Bharatiya Janata Party's pathbreaker, BS Yeddyurappa, today made a glorious comeback to the Chief Minister's office in Karnataka after a gap of seven years. Yeddyurappa, who was BJP's first CM in a southern state (2008-2011), had to face towering odds in his fight on the way back to the top as his traditional vote bank of the Lingayat community was divided by Congress before the polls began. While then-CM Siddaramaiah's decision to sponsor separate religion status to Lingayatas hurt Yeddyruappa's vote bank, a massive and consistent 'Modi wave' helped his sucess along. 
Catch minute-to-minute updates on Karnataka Polls Verdict live on India TV
Here is a brief profile of new Chief Minister of Karnataka:
Bookanakere Siddalingappa Yeddyurappa, popularly known as BS Yeddyurappa, was born to Siddalingappa and Puttathayamma in Bookanakere, KR Pet Taluk, Mandya District in Karnataka. He married in 1967 and has two sons and three daughters. His wife, Maithra Devi passed away in 2004.
Upon completion of his education in Bachelor of Arts, he worked as a clerk in the social welfare department and was later shifted to Shijaripur, where he continued as a clerk at Veerabhadra Shastris Shankar rice mill. BSY later set up his own hardware shop in Shimoga. 
His stint as a politician began in 1979 after he became the secretary of the Rashtriya Swayamsevak Sangh in Shikaripur. He was also imprisoned in Shimoga and Bellary jails between 1975 and 1977 during an emergency in India. Yeddyurappa rose to fame when he successfully helped HD Kumarawamy to bring down the government of Dharam Singh, who was indicted in a report by Karnataka Lokayukta in a mining scam which led to huge losses to the state. He was then made the Deputy Chief Minister and Finance Minister during the Kumaraswamy regime. 
Karnataka Election Results 2018 LIVE: BJP likely to emerge as single largest party, Congress suffers setback
He turned the tables when it came to his turn to become the CM, Kumaraswamy's refusal to resign led BSY and another minister to put forward their resignation from his party. After BJP and Kumaraswamy's JD (S) decided to bury the hatchet, Yeddyurappa took over the office again. He, however, resigned later in November over differences with JD(S) government over the sharing of Ministers.
He took the oath of office again on May 30, 2008 after he won by a margin of 45,000 votes in the Karnataka assembly elections. Controversies started flooding his political career after he was alleged of having used his position to favour his sons in the allotment of land in Bangalore, which is also known as the biggest land scam ever in Karnataka. 
After surviving over three dozen attempts of his ouster and a public show-down with Kumaraswamy, Yeddyurappa stepped down in July 2011. A miffed Yeddyurappa resined from BJP in November 2012 to launch Karnataka Janata Paksha. Only to later merge his party with BJP in January 2014.
Watch video: