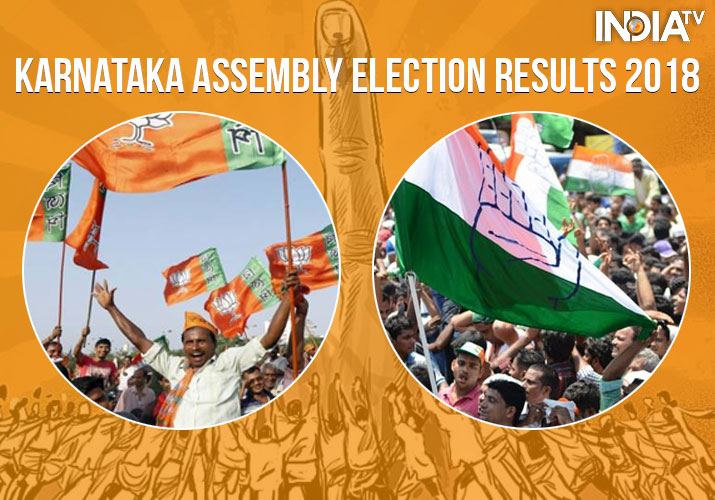 The Bharatiya Janata Party and Congress leaders met Governor Vajubhai Vala to form government in Karnataka, as no party touched the magic mark of 112. While Congress and JD (S) staked claim for government formation after entering into an understanding of lending support to each other, Yeddyurappa too requested the Governor to let BJP prove their majority in the assembly.
Both Congress and BJP started off with a neck-and-neck fight in the early morning trends, but as soon as the EVMs were factored in the trends titled heavily towards the BJP, followed by a twist in the tale.  Catch minute-to-minute updates on Karnataka Polls Verdict live on India TV
At 5 pm, BJP was ahead on 104 seats, while Congress moved to 78. Janata Dal-Secular (JDS) was ahead on 38 seats, others 2. Regionally, BJP maintained a comfortable lead in Greater Bengaluru, Hyderabad Karnataka, Coastal Karnataka, Mumbai Karnataka and Central Karnataka. In south Karnataka, JDS was ahead, while BJP and Congress remained in a close fight.
However, an abysmal performance in the polls has not dampened the spirit of Congress party. In a bid to keep BJP out of the power, the Congress party has offered support to HD Kumaraswamy's JD(S) to form the government in the state.
Also read | Karnataka Election Results 2018: Is JD(S) real reason for Congress' poll debacle? Here's what vote share says
Karnataka fate hangs in balance as BJP falls short of majority, Cong-JD(S) join hands 
The Karnataka Assembly election results threw up an unexpected suspense today, as a simple majority tantalisingly eluded BJP and the Congress quickly proclaimed support to third-placed JD(S) to keep the saffron party out of power. 
All eyes are now on Governor Vajubhai Vala who will have to decide whether to call BJP, the single largest winner of seats, to try to form the government or go with the JD(S)-Congress combine, which together have a clear majority in the 224-member Assembly. 
Elections were held for 222 seats on May 12. 
Both sides rushed to meet Vala, their vehicles slowly cutting through the throngs of party workers and supporters assembled outside the Raj Bhavan gates, and staked claim to power. 
In a roller-coaster ride for BJP, it initially appeared that the party was set to return to power after a five-year hiatus with a resounding majority. But as all the trends became known, it appeared the party will fall a few seats short of the 112 needed to form the government.
Watch video: