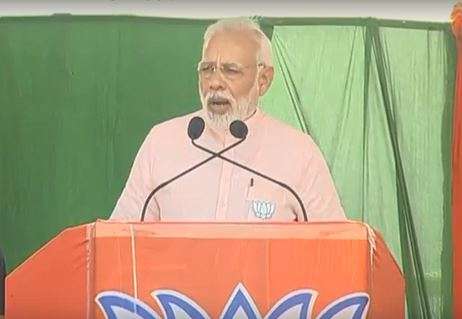 Taking a jibe at Congress President Rahul Gandhi's cellphone's 'airplane mode' remark, Prime Minister Narendra Modi on Tuesday said that the Congress government in the poll-bound state of Karnataka is always on 'sleep mode' and has done nothing to addresses the issues of farmers.
"Why is it that farmers of Karnataka face shortage of water? The Congress government, being in 'sleep mode', is doing nothing to address their problems. In five years, they ruined the farmers of Karnataka," said PM Modi, while addressing a public rally at Karnataka's Koppal. 
He added that unlike Congress, his government is committed to welfare of farmers, adding that it has decided to increase the MSP of notified crops by 1.5 times.
On Monday, Rahul Gandhi hit back at PM Modi for his "PPP Congress" jibe, likening him to a mobile phone on "speaker and airplane" mode and not the "work" mode. "There are three modes in a cell phone....the first is the work mode....the other two are speaker mode and airplane mode. Modi only uses speaker and airplane mode and not the work mode," he said. 
Continuing his all-out attack against the Congress, the prime minister said that after coming to power in Karnataka, the party "did not spare even school kids" and "selected students on grounds of caste for trips and excursions". 
"BJP believes in 'Rashtra Bhakti' and serving the society. Our only mantra is 'Sabka Saath, Sabka Vikaas'. But for the Congress party, only one family means everything," he added. 
The prime minister again reiterated his 'naamdaar' remark to attack the Congress, saying that when he had spoken about the 'Swachh Bharat Abhiyan' from the Red Fort, he was mocked by the leaders from the Congress. 
"Those who are born with a golden spoon, never understand the difficulties of poor. We are committed to serve the poor and would continue to do so," he said. 
Hailing his government's move to amend the POCSO Act to introduce death sentence for child rapists, PM Modi said that protecting the girl child is their commitment.