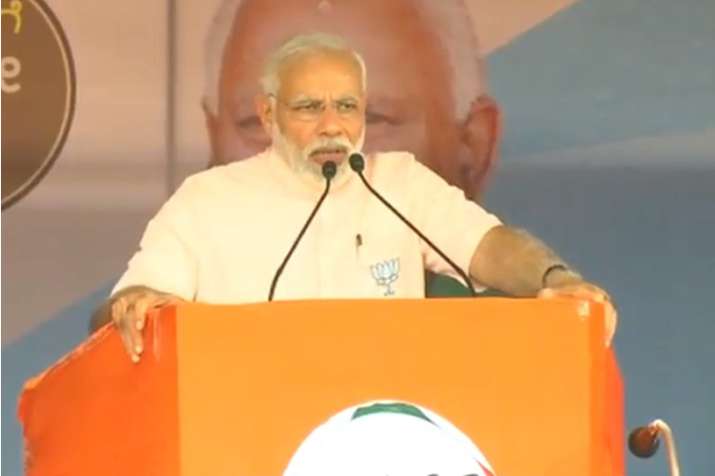 Prime Minister Narendra Modi continued his sharp attack against the incumbent Congress government in poll-bound Karnataka as his campaign blitzkrieg hit Vijayapura, Koppal and Bengaluru today. 
Yesterday, the prime minister held an in-app discussion with Karnataka BJP youth workers, wherein he lauded efforts of party workers in maintaining the public mood in favour of the party despite rumours of a hung assembly in the May 12 elections in Karnataka. 
Also read | 'Learn patriotism from Mudhol hound dogs', PM Modi taunts Congress
Here are the live updates:
PM Modi addresses public meeting in Bengaluru​
07:48 pm: There are more Indians flying as compared to those using AC trains. This is an example to show our our efforts in the aviation sector are bringing results. We are doing everything possible to improve connectivity : PM
07:44 pm: Congress lacks a forward looking vision for the development of Karnataka : PM
07:37 pm: When India was being ruled by an economist PM remote-controlled by Sonia Gandhi, it was counted under 'Fragile Five' : PM Modi
07:35 pm: India's perception has changed over the last four years. Before 2014, we were in the list of 'Fragile Five' but now we are seen as a strong economy : PM
07:30 pm: BJP promises a positive eco-system for industrial growth. BJP promises to end politics of dividing society. BJP promises a safer state for women in Karnataka : PM Modi
07:26 pm: BJP promises greater prosperity for farmers, better education, skill development, better opportunities for youth, more industrial development in Karnataka : PM 
07:22 pm: CM of Karnataka carries his character certificate in his briefcase and as soon as charges are levelled, he issues a character certificate : PM
07:20 pm: Under the Congress government, Bengaluru's infrastructure is crumbling. Women's safety is not a priority for the state Government : PM
07:14 pm: The people of Bengaluru must know whose name came up in the unfortunate death of a police officer here. People who should be in jail are sitting in Government in Karnataka : PM Modi
07:09 pm: I do not understand why the CM dislikes Bengaluru. He has handed over Bengaluru to an infamous trio- and we all know this trio- we also know they have been given charge of this city due to vote bank politics. This trio excels in all the wrong things: PM
07:07 pm: I have been travelling across Karnataka and the affection is tremendous. I thank the people of Karnataka: PM Modi
07:06 pm: I cannot understant what problem the chief minister has with Bengaluru: PM Modi
Highlights PM Modi's public meeting in Koppal  
04:02 pm: Congress only thinks about its own welfare. They do not care about farmers. We are committed to welfare of farmers. We have decided to increase MSP of notified crops by 1.5 times: PM
03:47 pm: Why is it that farmers of Karnataka face shortage of water? The Congress government, being in 'sleep mode', is doing nothing to address their problems. In five years, they ruined the farmers of Karnataka: PM
03:41 pm: To preserve heritage of Indian culture, we have come up with Swadesh Darsahan Yojana with the cost of Rs 5000 crore. It is an attempt to strengthen 'Ek Bharat Shreshtha Bharat' : PM
03:39 pm: Protecting the girl child is our commitment. We believe in the mantra of 'Beta Beti Ek Samaan' : PM
03:34 pm: When I had spoken about Swachh Bharat and building toilets from the Red Fort, the 'Naamdaars' mocked me. Those who are born with a golden spoon, never understand the difficulties of poor. We are committed to serve the poor and would continue to do so : PM
03:32 pm: It is the Modi government who brought the law of death sentence for child rapists: PM Modi
03:24 pm: We are promoting tourism in Karnataka. We are connecting distant places through airways: PM
03:19 pm: BJP believes in 'Rashtra Bhakti' and serving the society. Our only mantra is 'Sabka Saath, Sabka Vikaas'. But for the Congress party, only one family means everything : PM
03:18 pm: After coming to power in Karnataka, the shameful Congress party even did not spare school going kids. They selected students on the grounds of caste for trips and excursions: PM Modi
Highlights of PM Modi's public meeting at Vijayapura
01:52 pm: PM Modi ends the address at Vijayapura, Karnataka, his next rally will be at 3 pm in Koppal.
01:50 pm: It is the Congress party that did not allow the law on #TripleTalaq to be passed. How is the Congress even talking about women empowerment: PM 
01:45 pm: The Congress has never been serious about the safety of women. It is the NDA Government that has got a tough law that will ensure safety of women: PM
01:44 pm: The central government has brought social security schemes that are benefitting the poor: PM 
01:40 pm: It is the Saints, Seers and Mutts who have played a key role in making the society of Karnataka progressive and harmonious. They have worked to remove human suffering : PM
01:29 pm: What has the Congress done for the farmers of Karnataka? When the state was suffering due to droughts, Ministers handling key portfolios were busy in Delhi doing politics: PM
01:25 pm: Is there any minister in the current government who does not have corruption charges against them: PM
01:23 pm: I am here in a land closely association with Bhagwan Basaveshwara. His philosophy called for taking all sections of society together. Sadly, the Congress government has not followed his principles. All they are bothered about is their votes: PM
01:20 pm: Congress leaders have been trying to divide the community on the basis of caste and religion but they don't know that this is the land of Lord Basaveshwara and cannot be divided: PM
01:15 pm: Congress leaders have given up campaigning and are sitting at home to plot how to blame EVMs for their pending poll defeat: PM
01:13 pm: People of Karnataka has decided to not only defeat Congress but also give it strict punishment for five years: PM Modi
01:12 pm: People have gathered here for this rally in large numbers. They are here because they want to show their support for BJP and aspire a better life in the coming five years: PM
01:12 pm: PM Modi: 'Those who predict hung assembly from AC rooms, should come out in the heat to see the crowd here'
01:10 PM: PM Modi begins his address at the public meeting Vijayapura
12:50 pm: PM Modi to address his first poll rally today at Vijaypura shortly. 
Pulling all stops to wrest power from the hands of Congress in Karnataka, PM Modi is scheduled to hold 21 rallies before May 10 when election code of conduct will be implemented. Today, Modi will hold three public meetings - Vijayapura at 1 pm, Koppal at 3 pm and Bengaluru at 6:30 pm. 
Karnataka will go to polls on May 12 to elect its representatives for the 225-member assembly. The results will be out on May 15.