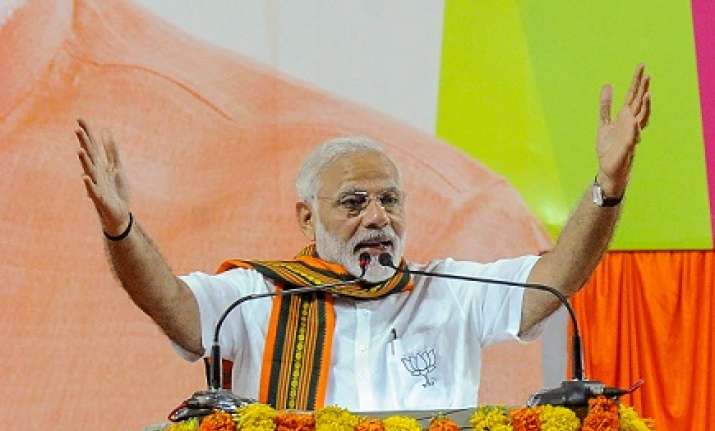 Prime Minister Narendra Modi on Sunday took a jibe at the Congress and its leadership for feeling "uneasiness" about patriotism, and advised them to learn it at least from the Mudhol hound dogs of north Karnataka, which have been inducted into the Indian army. 
The Prime Minister said there had been such a fall in the party that a Congress leader went to be amid those raising slogans like "Bharat ke tukde honge", giving them blessings. 
He was apparently referring to Congress president Rahul Gandhi's visit to the Jawharlal Nehru University (JNU) campus to be with a section of students during the controversy over anti-national slogans being allegedly chanted at the campus.
"When there is discussion about patriotism in our country, when there is a discussion about rashtra bhakti, raashtra geet, Vande mataram, some people are worried," said Modi at an election rally here. 
Modi said the country won freedom because of patriotism, and "today if we have started a great campaign of development on the basis of patriotism, Congress and its companions feel a foul smell in patriotism... their health gets upset smelling patriotism." "Did anyone think that after Independence Congress has fallen to an extent that today Congress leaders are going to be amidst those who shout slogans like "Bharat ke tukde honge" and are giving them their blessings," he said. 
Modi also said the Congress and its leaders had 'fallen' to such an extent that when the Indian Army carried out a cross-border surgical strike, they asked for evidence. 
"Those who felt uneasiness at the mention of patriotism, those who are averse to the talk about patriotism and for those patriotism is the reason for trouble, I want to tell them if you don't want to learn from others, please don't--whether it is your ancestors or Mahatma Gandhi's Congress. At least try to learn from Bagalkote's Mudhol dogs, he said pointing to the induction of these dogs into the Indian Army. 
"I know that their (Congress') arrogance has reached cloud seven. The people of the country have negated them, but they are still not ready to come on ground. So I don't expect them to even learn anything from Mudhol Dogs," Modi said. 
Mudhol Hound, also known as Caravan Hound, is an Indian dog breed which gets its name from Mudhol in Bagalkot district in north Karnataka. The lean and lanky Mudhol Hound is the first Indian breed to serve the Indian Army. 
Modi dubs Congress a 'deal party', says no one can save it 
Firing a barrage of barbs at the Congress, Prime Minister Narendra Modi labelled it as a "deal party" that was being uprooted from all over the country and said no one can save it now.
Taking BJP's campaign in poll-bound Karnataka to full throttle, he also accused Congress of "distorting history" as part of a conspiracy to divide society, as he addressed four back-to-back rallies at Chitradurga, Raichur, Jamkhandi and Hubbali in north Karnataka.
Hitting back at Congress for levelling "baseless" charges against BJP's chief ministerial candidate B S Yeddyurappa, Modi reminded it about the National Herald case in which "the mother and son (Sonia Gandhi and Rahul Gandhi) are facing allegations of a scam" and are on bail. 
Congress celebrating jayantis of 'Sultans' for vote bank politics: PM Modi
Accusing the Congress of distorting history as part of a conspiracy to divide society, Prime Minister Narendra Modi flayed the Siddaramaiah government in Karnataka for celebrating the "jayantis of Sultans" for the sake of "vote bank politics". 
Modi was apparently referring to the Siddaramaiah government's controversial decision to celebrate "Tipu Jayanti" every year on November 10, commemorating Tipu Sultan, the legendary 18th century ruler of Mysore. 
Addressing an election rally, the prime minister said, "Look at the Congress character....whose jayanti needs to celebrated with respect, from whom we have to draw inspiration for generations to generations, they can't think about celebrating their jayantis". 
"Veera Madakari and Onake Obavva are forgotten, but for the sake of vote bank politics they are into celebrating jayantis of Sultans," he said. 
Modi speaking at low level, responds Siddaramaiah 
As Prime Minister Narendra Modi continues to hurl barbs such as "seedha rupaiah sarkar" to target him, Karnataka Chief Minister Siddaramaiah today lashed out at him for making "personal attacks" and speaking at a "low level". 
The prime minister was using a language that did not befit the office he held, the Congress leader said, taking exception to Modi calling his dispensation a "10 per cent government" and "seedha rupaiah sarkar" while attacking him over alleged corruption. 
Siddaramaiah also mocked the Karnataka BJP, saying it solely depended on the prime minister as regards the May 12 state Assembly polls as it had no leader with a "face value". 
"We expected a dignified language from him (Modi). But what he spoke was the BJP's language and not the one of a civilised person. He spoke at a very low level...this is not the language of the prime minister," he told reporters here. 
The chief minister said it was expected that Modi would speak about the BJP-led central government's achievements and criticise the Congress government in Karnataka. 
Maintaining that he neither made personal comments nor used unparliamentary words, Siddaramiah said, "When he (Modi) spoke in an uncivilised manner, initially I thought I would not react. But I was forced to attack him because otherwise, the people would have perceived it as the truth." 
At all his election rallies in poll-bound Karnataka, Modi has made a scathing attack on the Siddaramaiah regime, saying it was a "gold medallist" in corruption and calling it a "seedha rupaiah government" (corrupt), a punning allusion to the chief minister's name. 
WATCH FULL VIDEO: