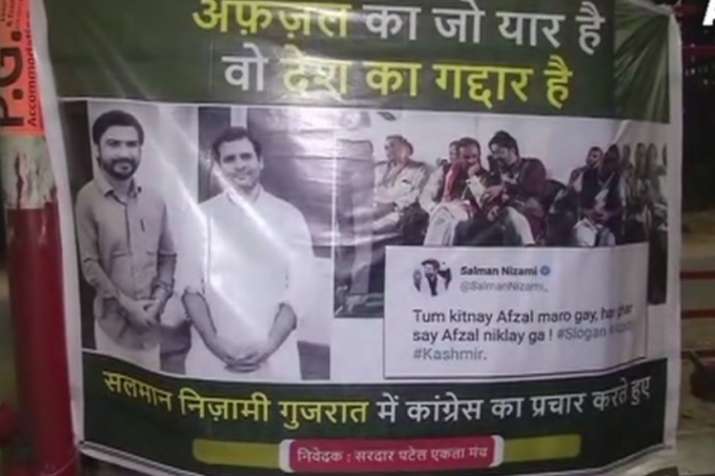 With the political fervour at its summit ahead of the second phase of voting in poll-bound Gujarat, a poster of Congress vice president Rahul Gandhi with Salman Nizami, who BJP claims is a member of the Congress party, emerged on the streets of Ahmedabad on Sunday. 
The poster carries a photograph of Rahul with Nizami, with text on it saying, "Afzal (Guru) ka jo yaar hai, woh desh ka gaddaar hai (One who is friend of Afzal Guru is a traitor)". The poster accompanies a tweet by Nizami where he extends support to Parliament attack mastermind Afzal Guru.
"Tum kitnay Afzal maro gay, har ghar say Afzal niklay ga (How many Afzals will you kill, a new Afzal come out of every house)," Nizami had tweeted. 
The poster claims that the photograph was taken when Nizami was campaigning for the Congress party in Gujarat for the Assembly elections. 
Posters seen in Ahmedabad #GujaratElection2017 pic.twitter.com/mikANGlENm

— ANI (@ANI) December 10, 2017
Nizami had tweeted: "Rahul Gandhi, son of Rajiv Gandhi. Sacrificed his life for India. Rahul Gandhi, grandson of Indira Gandhi.
Sacrificed her life for India. Rahul Gandhi, grand son of Jawaharlal Nehru, fought for India's independence. Narendra Modi, son of ...? Grand son of ...?"
Prime Minister Narendra Modi raked up Nizami's tweet questioning his ancestry in his public rallies in Gujarat, and used his origin from Pakistan occupied Kashmir to attack the Congress party. 
Claiming that the Congress has deployed Nizami to campaign in Gujarat, BJP president Amit Shah had said that "Nizami believes in freedom of Kashmir and has made statements that Afzals (Parliament attack convict Afzal Guru) would be born in every home of the state." 
The Congress, meanwhile, denied knowing Nizami. "Nizami who? Is he your (Modi's) man? We don't know who this Nizami is. He does not hold any position in the party. We can also say that there is some random person Ram Lal in the BJP who said something," Congress leader Rajiv Shukla said.