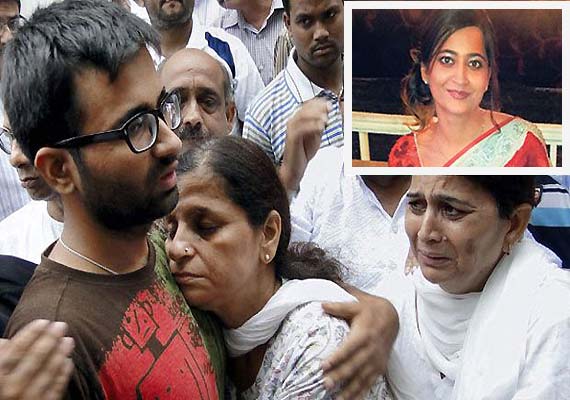 New Delhi, Feb 16:
Former air hostess Geetika Sharma's mother, who committed suicide by hanging herself inside her house here Friday evening, left another suicide note for her son, asking him to be "strong," police said.



Deputy Commissioner of Police P. Karunakaran told IANS that a note was found from the spot, written by Anuradha Sharma and addressed to her son.

"She said in the note that she was in depression because of the death of her daughter and she too was committing suicide. She asked her son to be strong," Karunakaran said.

Geetika's mother committed suicide Friday and blamed the same people that her daughter had named in the notes that she left before committing suicide. Geetika's mother said she was taking the extreme step because her family was being harassed.

Anuradha Sharma, 52, was found hanging in her bedroom here at her Ashok Vihar residence around 5.50 p.m. Friday. A suicide note she left named former Haryana minister Gopal Goyal Kanda and his employee Aruna Chaddha - the same duo that Geetika held responsible for her suicide.

Karunakar told IANS that Anuradha was in depression since the death of her daughter August last year. The family and relatives had been paying her much attention in the wake of Geetika's suicide.

"On the day of the suicide, her son Ankit had called his mother to have lunch with him at his office, a few kilometres from the house... she refused to step out and said she would eat at home," the police officer said.