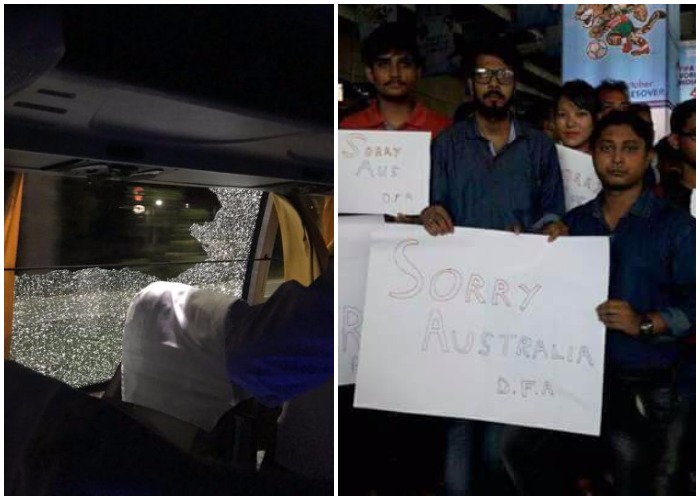 It takes a heart to admit your mistake and taken even real grit to apologize for the wrong you've done. Guwahati peeps have shown that they have a golden heart to apologize publicly for their fault. Cricket fans in Guwahati showed up holding placards apologizing for the shameful attack on Australian cricket team's bus. Hundreds of youth carried the 'Sorry' posters and waited outside the team's hotel and the airport on Wednesday morning to extend their apology. 
These images were posted on Twitter and went viral on social media for all the right reasons. 
Fans apologising to team #Australia outside their hotel #INDvAUS #Guwahati #BarsaparaStadium pic.twitter.com/7qADF5rtIa

— Vishal (@Vishal15067) October 11, 2017
Guwahati cricket fans with sorry placards apologizing to Aussies outside Radisson Blu hotel pic.twitter.com/KqJJH3WNjw

— Farrago Mrig (@Im__Mriganka) October 11, 2017
What happened actually? 
On Tuesday evening, when Australian team was leaving the Barsapara Cricket Stadium following their eight-wicket win in the second T201 of the three-match series in Guwahati, their bus was attacked by an unknown assailant. Australian opener Aaron Finch tweeted a picture of a broken window saying, "Pretty scary having a rock thrown through the team bus window on the way back to the hotel!!"
According to cricket.com.au, the rock, believed to be roughly the size of a cricket ball, was thrown at a window on the right-hand side of the bus while it was returning from the stadium.
No injuries were caused to any of the players or the support staff.
This incident not only brought a bad name to the country but also reflected the short-tempered demeanour of people in India. But it is never too late to say sorry. The youngsters in Guwahati are making up for their mistake and making every sports lover proud! 
Sorry aus team. We are love you, our deep apology #assam guwahati india @davidwarner31 @AaronFinch5 pic.twitter.com/e9w6I4GlIh

— Bishal Bharadwaz (@BharadwazBishal) October 11, 2017
Moises Henriques was so impressed by the attitude of the youth that he posted on Twitter to appreciate the good vibes exhibited by Guwahati youth. 
Whilst the bus home last night wasn't ideal, the support from fans & children across Assam today in response was kind. Cheers 2 good vibes✌🏼

— Moises Henriques (@Mozzie21) October 11, 2017
As per the reports, Gorchuk police has arrested two youths on Wednesday morning for carrying out the attack on the bus. 
We hope that such attacks are not repeated in the future. It's a game, and one team is bound to lose. Being a true sports lover, one shouldn't get offended being on the losing end. Apart from this, this incident sends out a message that one should never feel small for apologizing for their own mistake. Take a stand and do the repair job, that's what a true gentleman ought to do!