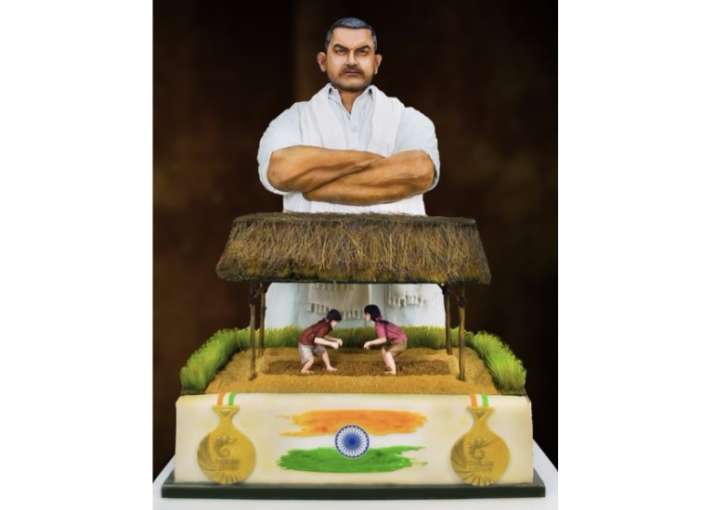 A Dubai bakery has gone way too grand in order to commemorate India's Independence Day which is celebrated on 15th August. It is claiming the huge 'Dangal' cake to be 'world's most expensive edible cake'. The cake artists at Broadway Bakery took a month and over 1,200 working hours to bake the jaw-dropping $40,000 cake. This 54-kg cake is purely artwork has an Indian name 'Dangal' taking cue from Aamir Khan's blockbuster movie. The cake has towering figure of actor in the guise of Mahavir Phogat with a scene from the film itself. 
"The client wanted gold to be generously incorporated into the cake and we fulfilled the request by coating each medal with 75gm of edible gold," the Broadway Bakery said in an official statement on their Facebook account on Wednesday. 
The artist beautifully captured the scene from the movie where Phogat sisters are duelling with each other in a makeshift Akhada prepared by their dad-cum-mentor Mahavir Phogat. 
"The cake is 100% edible and made entirely using sugar fondant, the signature chocolate sponge, ganache, Belgian chocolate, demerara sugar and edible gold. The Signature Chocolate Cake is one of the best tasting gourmet cakes in town," the bakery company said.
The bakery confirmed that the cake is huge enough to feed 240 guests. Aamir Khan's Dangal has become the highest grossing Indian movie worldwide with lifetime collection of Rs 2000 crore. Based on the life of Mahavir Phogat and his wrestler daughters Geeta Phogat and Babita Phogat, the movie has garnered huge critical acclaim at the time of release. 
For more Trending news, follow our Facebook Page.