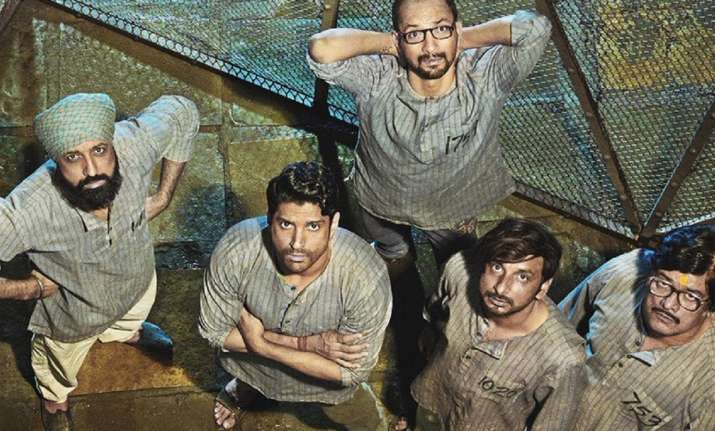 Farhan Akhtar and Diana Penty starrer Lucknow Central is all set to release this Friday. The movie directed by Ranjit Tiwari is an intense drama and draws inspiration from a real life event. The flick revolves around the protagonist Kishen who lands up in jail after being found guilty of a murder and is awarded death sentence. However due to turn of events, Kishen forms a musical band with four other jail inmates and plan a jailbreak. The director Ranjit discovered about this band in a newspaper report and wanted to make a film. He discussed the idea with Nikhil Advani and Farhan Akhtar.
The movie which finds its roots from a real story is based on a band of 12 men of Aadarsh Kaaragaar. Named Healing Hearts, the Karagar is situated in the outskirts of Lucknow. Senior superintended of Lucknow Central Jail, VK Jain in 2007 released fund to set up this band from Lucknow so that they can compete with bands from other central prisons across Uttar Pradesh in annual fest. Finally fifteen musical instruments were purchased after couple of prisoners came forward and volunteered. A band of 12 men serving life imprisonment for murder came together to form the band. With the help of guard Noor Mohammed who knows to play instruments, they started practicing. Finally the D-day arrived and they lifted the winner's trophy.
Pleased with the performance, VK Jain game them annother opportunity to showcase their talent in a private party and since then there was no looking back. Gradually, the band became popular and now they perform at weddings, baraats, etc and even receive requests of performance from out of the town. Their charge is half the price of other bands and they also have a booking counter. Besides playing Bollywood numbers, they have also performed at Republic Day. After their show, they return back to their cells to serve their term. The cast of Lucknow Central recently visited Aadarsh Kaaragaar where the band dressed in bright orange outfits performed on 'Bijuria' Sonu Nigam's hit track from the 90s. 
Like our Facebook page for more such updates