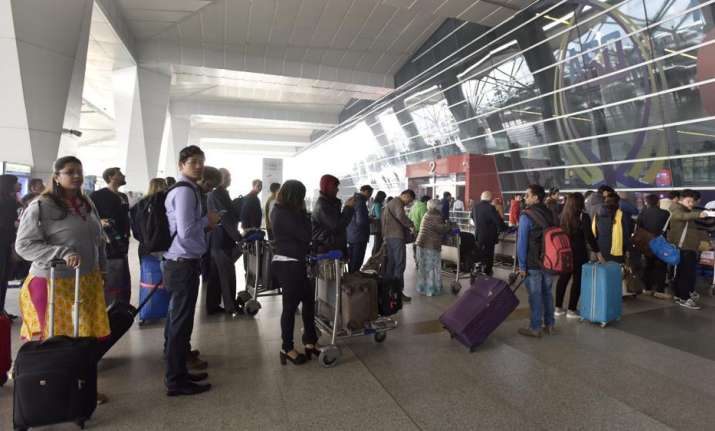 Chaos ensued at the Delhi Airport after a system failure in the baggage handling system misplaced thousands of luggage items on Thursday night. 
The system failure has affected bag destined for all airlines post check-in, which means no luggage item has been boarded to any flight since the issue surfaced. 
The spokesperson for Delhi International Airport (P) Limited ( DIAL) has said that an increased level of dangerous goods in the luggage was responsible for the system breakdown.
"With onset of the holiday weekend, Delhi Airport experienced an increased level of dangerous goods, particularly power banks and lighters, in luggage. Incident rate was 30 per cent higher than average. It impacted baggage handling due to the manual reconciliation of the suspect baggage,"  DIAL Spokesperson said.
Visatara airlines has alerted its passengers against the system failure at Delhi airport. In a notification issued by the airlines, the passengers were advised that 'Delhi Airport has been facing challenges with the baggage handling system post check-in'.
The airlines have taken this up with Delhi Airport officials, and they are working on a solution, it said. 
March 29, 2018
"Update for travellers at @DelhiAirport : Due to some protest by the baggage handling & screening  team, baggage are being mishandled. Around 3,000 bags have been left behind. Expect delay and some inconvenience," a passenger tweeted from the waiting lounge of the airport.
Update for travellers at @DelhiAirport : Due to some protest by the baggage handling & screening team, baggage are being mishandled. Around 3,000 bags have been left behind. Expect delay and some inconvenience. #avgeek #Aviation #paxex @LiveFromALounge

— Arindam Majumder (@ari_maj) March 29, 2018