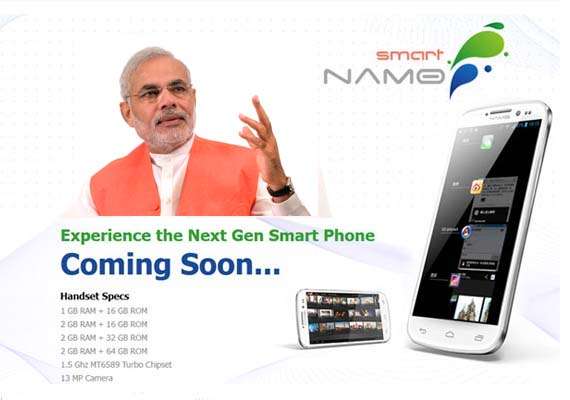 New Delhi, July 29: A group of businessmen from Gujarat will soon bring to the market 'Smart Namo,' a smartphone dedicated to the popular Gujarat chief minister NarendraModi. With NaMo standing for Narendra Modi, the Next generation Android smartphone is the group members' way of showing their dedication and respect to Modi, the official website for the device says.
The makers of the smartphone also hope to get the Gujarat chief minister's permission to use his signature in all the NaMo branded smartphones.
The Smart Namo group includes Gujarati businessmen who have mobile businesses in China. According to one of its group members, the idea behind the device came from China itself, where several products like MP3 players and smartphones are branded with their leaders' name.
The reports suggest that the members will take the approval of the smarphone from the Gujarat chief minister next month and afterwards the group will establish a production plant to manufacture the handsets in Gujarat.
The device is likely to cost Rs 16,000 and have videos as well as apps related to Modi. The group also says that it would be selling the smartphone at cost, thus making no profit from it. It also says cheaper version of the smartphone are also in the pipeline.
Regarding specifications, the Smart Namo website says that the phone will have a 5-inch screen, reinforced with Corning Gorilla Glass 2. It will run on a 1.5GHz quad-core Mediatek chipset that supports dual-sim functionality and have a 13MP camera on the back. The phone will be available in four variants, as per storage and RAM.