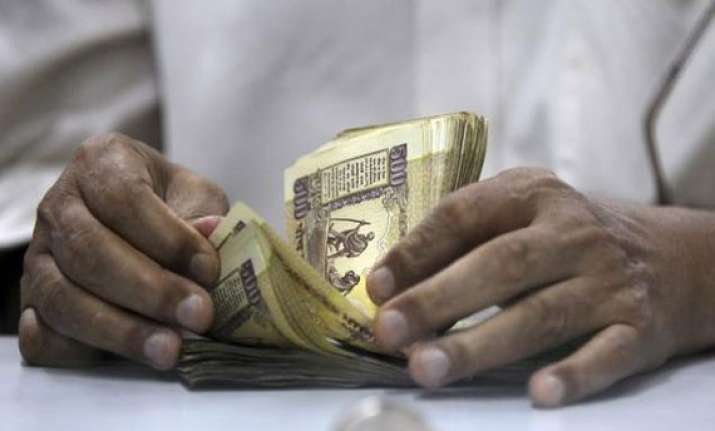 Mumbai: In tandem with upmove in stocks, the rupee today gained for the fourth day and closed at a fresh 11-month high of 58.59 against US dollar on sustained inflows.
Continued dollar selling by exporters and some banks also boosted the rupee sentiment, a forex dealer said. Weak dollar overseas helped as the dollar index, a gauge of six major global rivals, was down by 0.13 per cent.
At the Interbank Foreign Exchange (Forex) market, the domestic currency commenced strong at 58.53 a dollar from last close of 58.79. It moved in a range of 58.3750 and 58.6150 before settling at 58.59, showing a rise of 20 paise or 0.34 per cent. Previously, it had closed at 57.87 on June 17, 2013.
In four days, rupee has gained 146 paise.
The landslide victory of BJP-led NDA in the elections is credit positive for India as a stable central government is expected to address the country's economic challenges, said a Moody's report today.
Pramit Brahmbhatt, Veracity Group CEO, said: "Rupee appreciated during the day as local equities closed up. The BJP win has boosted the confidence of investors which will help rupee to trade near 58 levels. Below this expect RBI to intervene. Also, importers will enter markets to take advantage of rupee situation."
Benchmark S&P BSE Sensex today flared up by over 24 points, or 1 per cent to log new closing peak of 24,363.05. While capital goods and power shares spiked, equities of
exporters like IT and pharma companies fell on a strong rupee hitting their margins.
FIIs picked up shares worth Rs 1,350 crore as per provisional data today.
Meanwhile, premium for forward dollar remained weak on sustained receipts by exporters.
The benchmark six-month premium payable in October eased to 200.5-202.5 paise from 202-204 paise previously. Far forward contracts maturing in April, 2015 also declined to 412-414 paise from 418-420 paise.
The Reserve Bank of India fixed the reference rate for dollar at 58.4260 and for the euro at 80.1170.
The rupee improved further against the pound to 98.55 from 98.79 previously. It also strengthened to 80.37 per euro from 80.55. The rupee edged up against the Japanese yen to 57.94 per 100 Japanese yen from 57.96.