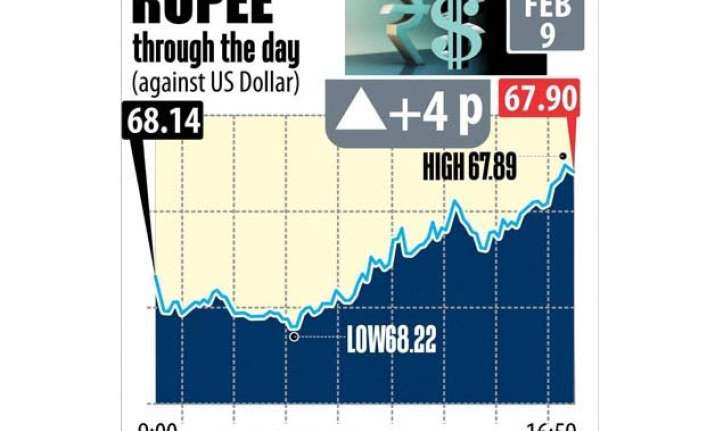 New Delhi: In a volatile market, the rupee snapped its 2-day losing streak against the American currency by recovering four paise to 67.90 per dollar on fresh selling of dollars by banks and exporters despite sustained fall in equities.
Weakness of dollar in the overseas market also boosted the rupee value against the dollar, a forex dealer said.
The Indian unit resumed lower at 68.14 per dollar as against Monday's closing level of 67.94 at the Interbank Foreign Exchange (Forex) market and dropped further to 68.22 per dollar on initial dollar demand from banks and importers.
However, it recovered from initial losses to 67.89 per dollar on selling of dollars by banks and exporters before concluding at 67.90 per dollar, showing a gain of four paise or 0.06 per cent.
It has dropped by 39 paise or 0.57 per cent in two days.
The domestic currency moved in a range of 67.89 per dollar and 68.22 per dollar during the day.
The dollar index was down by 0.21 per cent against a basket of six currencies in the late afternoon trade.
In New York, US dollar fell to a 15-month low against the yen on Monday, as a renewed slide in oil prices and doubts about the effectiveness of the Bank of Japan's negative interest-rate policy, drove investors back into the safe-haven currency.
The dollar tumbled today to its weakest level against the yen since late 2014 in the international market, as plunging oil prices dragged global stocks lower, helping to support haven assets like the Japanese currency and US.